Friends, back in 1997 when director Paul Verhoeven (RoboCop) released Starship Troopers to theaters, he and screenwriter Edward Neumeier were doing more than delivering an adaptation of Robert A. Heinlein's classic if controversial science fiction novel of the same name. In fact it seemed to me while sitting in the auditorium on opening night that the filmmakers had actually delivered a subversively black comedy, which was managing to tweak the nose of the source material itself a little. Having said that however it certainly felt like I was in the minority when reading the reviews for the film, it seemed like a few critics were missing the point of how Neumeier and Verhoeven were showing the rather alarming fascist nature of the Terran Federation – from the symbols and uniforms of the military to those memorable "Would You Like To Know More" ads.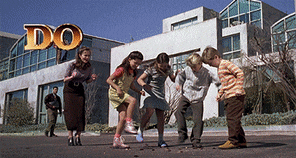 Besides some incredible CGI and practical effects, Starship Troopers also happened to feature a pretty talented cast of actors from Clancy Brown (The Mortuary Collection), Michael Ironside (Scanners), Dean Norris (Breaking Bad), Jake Busey (The Frighteners), Dina Meyer (DragonHeart), and Casper Van Dien (Sleepy Hollow) to name a few.
However, as this short film entitled Far Alamo proves, with the use of digital effects we can see the likes of Clint Eastwood as well as other iconic and legendary western film stars attempt to defend a future Alamo from an invasion of Arachnids!
Far Alamo is courtesy of Fabrice Mathieu who took elements and characters from such films as both the 1960 The Alamo and the criminally overlooked 2004 version. In addition to A Fistful of Dollars, The Good, The Bad and The Ugly, My Name is Nobody, and The Magnificent Seven among others.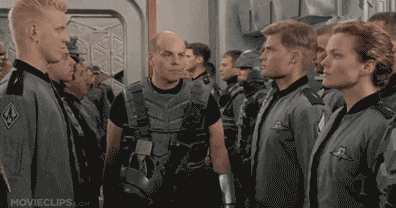 Besides using obvious captures from Starship Troopers, Mathieu also incorporated elements from the direct-to-DVD Starship Troopers: Marauder and the CGI animated Starship Troopers: Traitor of Mars. To say nothing of editing themes from movies composed by James Horner, Ennio Morricone, and Dimitri Tiomkin. Although it was rather surprising that Mathieu didn't take the opportunity to share some of exceptional score from Starship Troopers by the late and great Basil Poledouris.
Perhaps it is a case that Mathieu figured that the score from the film didn't exactly fit the western motif of his short film?