Friends, it feels like it has only been just a few days since we uploaded a brand new episode of the Saturday Frights podcast. That is probably because it was actually only three days ago when the Projectionist and I covered the 2006 adaptation of Stephen King's "Battleground" from the TNT Nightmares & Dreamscapes: From the Stories of Stephen King television mini-series. I made mention in the podcast post that we had intended to have a new episode of the podcast out for the just released Godzilla vs. Kong, so we just knuckled down and decided to get another show in the can.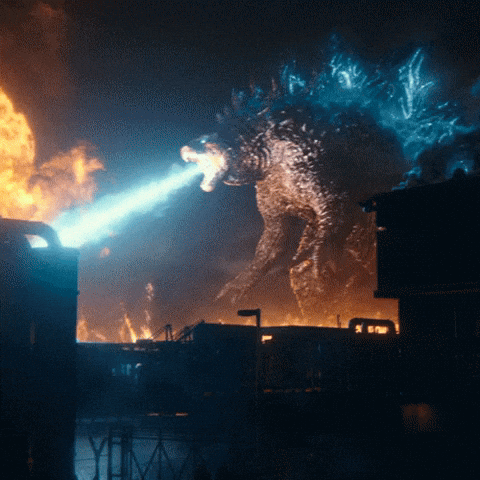 With Godzilla vs. Kong having just been released on HBO Max as well as to theaters, it won't shock you to learn that we steered from discussing anything that might be considered full spoilers. We did our level best to keep the episode focused on the beginning moments of the film that you can see in the official trailer – although I will have to admit we might have touched on elements that could be considered minor spoilers, such as talking about certain characters.
In this episode you will hear about the special screening we had at the Haunted Drive-In for Godzilla vs. Kong… as well as how wrapped up I got in the confrontation between Kong and Godzilla. In addition I shared a very interesting connection with this movie and the previous Legendary Godzilla films, courtesy of an interview shared by Collider – although you should only check that link out AFTER you have seen the movie for yourself.
As always we truly appreciate you taking time out of your busy schedule to give the podcast a listen. So without further ado, prepare yourself for a trip to Skull Island and beyond as you get ready for the epic brawl that is Godzilla vs. Kong!
If you have any suggestions for topics you would like for us to cover in a future episode – or possibly you have comments on the current show itself, email them to me at VicSagePopCulture@gmail.com You can also contact me on Twitter and on Facebook. In addition I certainly hope you will take the time to visit the Saturday Frights Facebook Page. There you can find posts from Rockford Jay, Preston Griffith and myself on a daily basis.
Subscribe to the Saturday Frights Podcast:
[iTunes] Subscribe to the Saturday Frights Podcast (MP3)
Directly download the Saturday Frights Podcast:
Episode Mirror #1 (MP3)