Well, if you've mastered cold drink and hot drink preparation and service, then you're ready for this next step…the grill!
Wendy's really knew how to pull out all the stops for their training videos, employing Not Michael Jackson and Mashup Paula Abdul/Janet Jackson to teach (through song) how to serve drinks the Wendy's way. It was their attempt to cater to a younger employee base, and it probably worked.
While the hot drinks video is arguably the best one (my husband and I sang it in the grocery store the other night), the cold drinks video packs some punch as well. My husband says that one is not as good as the hot drinks video, but since I liked Paula Abdul and Janet Jackson songs growing up, I feel nostalgic.
Straight up now tell me, are you gonna serve the cold drinks correctly?
That wasn't in the video, but seriously, wouldn't you feel more motivated if that was sung to you?
The final video in the Trifecta of Wendy's Training Video Goodness comes from 1989, and teaches the master art of…the grill. Learn the grill, and you too can have "Grill Skills"!
I swear, all the good stuff was used up for the other two videos. By the time it got to this point, the law of diminishing returns was being beaten with a shovel out back.
Dave Thomas and the "Ol-Fayshoned" Hamburger
The video on grill skills should be amazing, being that it is introduced by Dave Thomas and all, since he didn't have a cameo in the drink videos, right?
Well…
First of all, I've seen many Wendy's commercials over the years, many dating to around the time this training video was made, and I don't remember Good Ol' Dave looking like he needed cue cards. He always seemed so confident in his delivery in the commercials, but here, it feels like someone is waiting to feed him his lines.
And as for his line delivery, when did Dave start sounding like Wilford Brimley in his pronunciation? He says "Old-Fashioned" and "Business" like Brimley says "Diabetes."
Anyway, all that joking aside, Dave is actually there is explain the reason for Wendy's burgers being square patties, rather than round, as well as to explain the reason for this video – the new procedure for grilling the burgers, called "The Four Corner Press."
Dave goes off to order his burger, which means he's going to eat while you're learning.
I'd do the same if I owned the company, just sayin'.
My Achy Breaky Grill Skills
Now I should mention even before this video starts, before Dave Thomas tells you about the method to his burger-making madness, the theme song of the video has this whole "Achy Breaky Heart" vibe, before "Achy Breaky Heart" was even a thing. I figured that if you're using this for your intro, certainly the "training song" is going to be like that, right?
Well, no. They're still sticking with the "youth vibe" that the other two videos embodied, right down to the trainee.
This is Bill. He's been on fries, but his supervisor, Mary, wants to orientate him on the grill. She shows him where everything is kept, and then leaves him in the care of the training area television and VCR.
The television goes all Captain N: The Game Master on him, and what happens next is the stuff new hire training videos are prime for, or at least, what Wendy's training videos are prime for…song!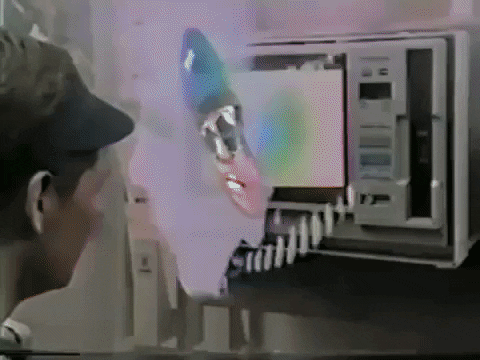 And not just song, but song in the tune of…Not Michael Jackson: The Sequel!
When Things Start To Sizzle, You're Ready To Go…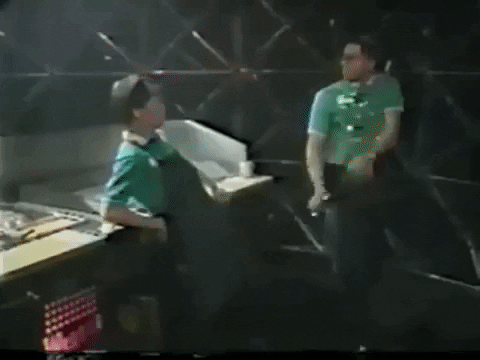 "Grill Skills" was clearly going for a "Hot Drinks" look when they created this portion of the training, employing a Michael Jackson-type singer to demonstrate the "four-point press." However, it wasn't Marvin Hawkins and his incredible vocals. What they got was Jog DMC teaching his trainee the skills he needs to master the grill.
It's a journey through correctly salting the patties, flipping them at the right time, placing the cheese at the right time, placing the correct number of patties on the grill, sequined work shirts ("Hot Drinks" didn't have one of those!), and hallucination-induced singing hamburger patties.
I'm not freaking out right now.
Did Hot/Cold Drinks have strangely-animated…anything… teaching proper protocol? Well, no. Was that a good thing? Depends on how you learn. If Hallucination Hamburger Patties singing to you about being salted and flipped at the proper time teach you everything you need to know, then this training is effective.
Meat's Got Grain To It, Just Like Wood…
It's alot for Bill. Heck, it's alot for anyone. Can Bill learn the four-corner press, prepare the hamburgers correctly, and survive this song long enough to master his "grill skills"?
You're just going to have to watch the video!
(Please stick around until the end, for something truly special. It's worth watching the entire training protocol to get to it, trust me!)
Upload via Matthew Perdue
So, um, yeah.
"I Won't Get Burned In the Rush…"
If you can say "Top and bottom, left and right, press out the corners nice and wide, about half an inch on every side!", then you're on your way to learning Grill Skills!
As I've said with the other training videos, the use of music and music video type images were obviously an attempt to appeal to the younger employees. What I don't understand is why they had two songs for this video – obviously the "Grill Skills" song was supposed to be a theme song, and the rap was to remember the procedure for grilling the hamburger patties, but they couldn't incorporate just one of these songs into the entire video?
That's just me being nitpicky.
However effective Wendy's training videos were because of their songs, I have no idea. Would this have helped me? Yeah, I'd like to think so.
And that, my friends, completes the "Trifecta of Wendy's Training Video Goodness." They didn't cover fries, but you know how to serve hot drinks, cold drinks, and prepare hamburgers. Now get out there and serve drinks that really get you going, put the correct amount of ice in the cup, and press those corners correctly, because it all comes down to Wendy's promise:
"Always serve top quality – nothing less than the best – that's a guarantee."
I'll fight the urge to ask about the four-corner press next time I go to Wendy's.