Friends, we have a brand new episode of the Saturday Frights podcast for you this morning, the subject of the show is a listener request. The Projectionist and I talk about the 1985 Amazing Stories episode entitled "Mummy Daddy", one of the more comedic offerings from that particular TV anthology series. Although on this episode we might not have been unable to uncover quite as much information on "Mummy Daddy" as we did with The Birds, the Projectionist and I found out some surprising information on how long Universal was attempting to reboot 1932's The Mummy. Including a rather surprising list of talented writers and directors that were approached before Stephen Sommers was tapped to bring 1999's The Mummy to the big screen.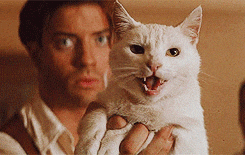 Although we have tackled Amazing Stories in past podcasts, both "Remote Control Man" and "Mirror, Mirror" as a matter of fact, we do provide a brief history on the television show itself – including its link to the long-running magazine of the same name.
In addition it might surprise you to learn that Amazing Stories wasn't a huge hit when it was originally aired on NBC. Not even the legion of talented people in front of and behind the camera, attracted to the series thanks to Executive Producers Steven Spielberg, Kathleen Kennedy, and Frank Marshall, were able to capture the necessary audience for Universal Television and NBC to support it beyond two seasons. Although having said that, and as we touch upon in the show itself, Amazing Stories did manage to earn quite a few Emmy nominations.
If you happen to be a huge fan of "Mummy Daddy" by the way, I think you will be interested to know that the teleplay written by Earl Pomerantz happens to be available to purchase on eBay at this very moment. Assuming of course that you have the spare change to afford such a unique collectible.
Without further ado, please join the Projectionist and myself at the Haunted Drive-In as we discuss 1985's "Mummy Daddy" on the Saturday Frights podcast. As always we want to thank you for taking time out of your busy schedule to listen to the show, and hope that you are enjoying season three of the podcast.
If you have any suggestions for topics you would like for us to cover in a future episode – or possibly you have comments on the current show itself, email them to me at VicSagePopCulture@gmail.com You can also contact me on Twitter and on Facebook. In addition I certainly hope you will take the time to visit the Saturday Frights Facebook Page. There you can find posts from Rockford Jay, Preston Griffith and myself on a daily basis.
Subscribe to the Saturday Frights Podcast:
[iTunes] Subscribe to the Saturday Frights Podcast (MP3)
Directly download the Saturday Frights Podcast:
Episode Mirror #1 (MP3)