Friends, if you are kind enough to check in on the Saturday Frights and Diary of An Arcade Employee Facebook pages, you probably know that I am currently under the weather. While I do not believe I have anything too serious, the result is I can barely muster the energy to even write more than a single article a day of late. I mention this only as an explanation for missing out on the announcement via NECA's twitter feed, that in 2021 they are going to be releasing Ultimate 2-packs featuring characters from Puppet Master. A film series that I have been a loyal fan of since catching the first film on an HBO free weekend – in fact episode 71 of the Saturday Frights podcast was all about the 1989 movie.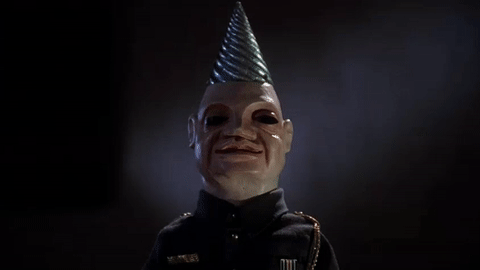 Puppet Master is most assuredly a cult film, but one that stands out thanks in no small part to the effects of the late and great David Allen (RoboCop, Willow) and his crew on the first three movies – which included puppetry as well as stop-motion animation. In my personal opinion, the Puppet Master series really hit it's stride with the sequel – which was released direct-to-video on February 7th of 1991.
Thirteen films have been released in the Puppet Master saga as I understand it – including a reimagining or reboot of the series with 2018's Puppet Master: The Littlest Reich. The idea of puppets or dolls being instruments of evil – then good guys – then evil once more was thanks to Charles Band (Metalstorm, Trancers), a well known producer and director who founded Full Moon Features. In the late '80s and until the mid-'90s – his company which was Full Moon Entertainment at that time – delivered some imaginative and memorable cult films nearly every month.
I think it would be honest to say that of the handful of franchises that Band has had a hand in creating for Full Moon Features – it is Puppet Master that is the most popular. For what it might be worth, I own quite a few of the action figures that were produced in the late '90s – a benefit of working at the local Suncoast Motion Picture Company in those days. However with the announcement by NECA just last week about their upcoming Puppet Master Ultimate 2-packs – it appears that it is time to make some space on the shelves for these new versions of Blade, Torch, Pinhead, and Tunneler.