Friends, welcome to a new episode of the Saturday Frights podcast – with this third of eighteen episodes for season three of the show – we are sticking with the theme of science fiction/horror films. For this week's podcast, the Projectionist and I, have decided to discuss the cult classic Night of the Comet which was released in 1984. One of those rare films that manages to pull off, thanks to the script by Thom Eberhardt who also directed Night of the Comet, to be equally fun as it is thrilling. As mentioned on the podcast itself, the cast which includes the likes of Catherine Mary Stewart (Weekend at Bernie's), Kelli Maroney (Chopping Mall), and Robert Beltran (Star Trek: Voyager) elevate what could have been a campy movie and really make it something special.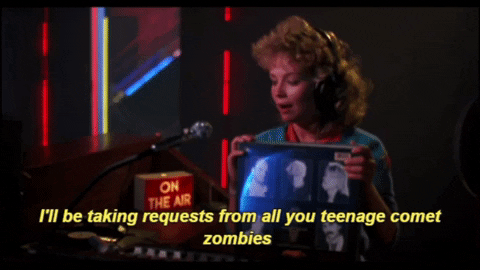 As always we have done our level best to shine the spotlight on those in front of and behind the camera. I was able to find some very interesting anecdotes concerning Night of the Comet thanks to John Kenneth Muir's Horror Films of the 1980s. While the Projectionist and I give a full synopsis for Night of the Comet without hopefully hitting you over the head with every minor plot point. This show still clocks in at nearly an hour in length – which means my co-host didn't bring quite as many audio treats as he normally would.
If you have any suggestions for topics you would like for us to cover in a future episode -or possibly you have comments on the current show itself, email them to me at VicSagePopCulture@gmail.com You can also contact me on Twitter and on Facebook. In addition I certainly hope you will take the time to visit the Saturday Frights Facebook Page. There you can find posts from Rockford Jay, Preston Griffith and myself on a daily basis.
We certainly hope you are enjoying season three of the Saturday Frights podcast so far – so before you head out to the local mall and tangle with some comet zombies – prepare yourself for Night of the Comet.
Subscribe to the Saturday Frights Podcast:
[iTunes] Subscribe to the Saturday Frights Podcast (MP3)
Directly download the Saturday Frights Podcast:
Episode Mirror #1 (MP3)