Friends, it is hard to believe that 40 years ago today, the second installment of the original Star Wars trilogy was released to theaters. Although in my case – I wasn't able to catch The Empire Strikes Back at the theater of my youth but at the local Drive-In. Not exactly sure why my Father decided to take us to the Drive-In instead of the theater on opening weekend – unless it was because he knew there was a poor employee dressed as Darth Vader handing out candy outside of the concession stand. This young man was having to deal with both the heat as well as children yanking on his cape and screaming questions at him about the first movie. I can honestly say that I wasn't one of those children, I just wanted some of those Tootsie Roll pops he was handing out – although thinking about it now – it was a good thing that employee didn't have Vader's connection to the Dark Side of the Force, right?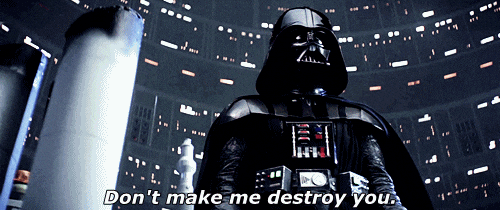 As soon as the Sun started to set however there wasn't a child that was interested in either the free candy or even the playground – we had waited three years to see the continuing adventures of Luke Skywalker, Han Solo, and Princess Leia. By the time the credits rolled two hours and four minutes later – my mind was completely blown. And the entire drive home I was talking a mile a minute, telling my Father my favorite moments in the film and having a rather heated discussion on the revelation that Darth Vader was Luke's Father. It would be another three years before I had to accept the fact that Vader was actually telling the truth after that epic duel in Cloud City – although perhaps not quite as amazing as the one presented in this animated Star Wars: Galaxy of Adventures short.
Make no mistake about it, there are so many moments from The Empire Strikes Back that stand out in my mind. Luke's training with Yoda on Dagobah – including that frightening moment where the young Jedi faces his fears in the dark-side cave. The bounty hunters – yes – I was a Boba Fett fan from the beginning… but possibly the moment that captured my imagination the most was the battle on Hoth. For months and months I would draw in my notebooks my very own confrontations between the awe-inspiring AT-AT's and brave if overmatched Rebel forces. It is that exact confrontation that is the subject of the latest Star Wars: Galaxy of Adventures offering – what better way to celebrate the 40th Anniversary than enjoying this thrilling animated short?
I want to give a huge thank you to the Nerdist site for the heads up on Battle on Hoth – in addition throughout the day we will have other writers sharing their memories of Star Wars: The Empire Strikes Back!