Friends, when it comes to retro related music I generally leave the subject to my fellow writers, Allison-Venezio Preston and Earl Green. I've mentioned ad nauseam how music wasn't really a big thing in my household when I was growing up, so I missed out on a lot of the bands and hits songs from my youth. That is why I am so very thankful for my friends on Facebook who are kind enough to share treasures like this "Automatic Man" music video by Michael Sembello. Not only had I never seen this 1983 video until this morning when a good friend shared it to my timeline – but I didn't realize that it was Michael Sembello who was responsible for "Maniac" from Flashdance, which was also released in '83.
Now I obviously had heard "Maniac" thanks to catching Flashdance at the 62 Drive-In theater of my youth – but somehow before I regularly began watching Nickelodeon's Nick Rocks or Night Tracks on WTBS, I missed out on "Automatic Man". Which is a shame because there is a lot going on in this particular music video to say the very least. Elements from Alien, Mad Max, and even a little Frankenstein are thrown into the visual mix to accompany Sembello's tune.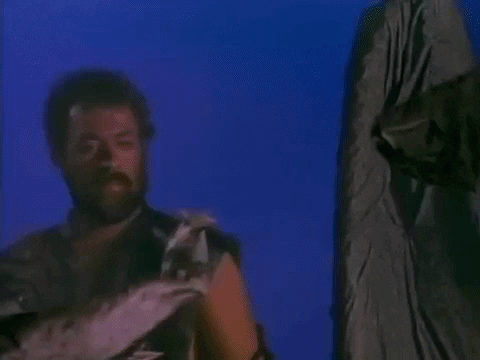 "Automatic Man" was a song off of Sembello's first solo album, which was Bossa Nova Hotel and was released on September 25th of '83 – the same solo album that included "Maniac". As for what is going down in the "Automatic Man" music video – I am assuming that the mad scientist, who I thought was played by Max Headroom's Matt Frewer at first, has created an android to attract a young Woman. I guess that the young Woman is the true love of Michael Sembello's character in the video, and it looks like the android does it's job too well – causing the mad scientist to show up and destroy it. However a stray laser shot strikes the crystal that the young Woman picked up – turning them both to stone – thankfully Sembello shows up after the fact to save the day.
I might be easy to please but I definitely am a fan of both the music video for "Automatic Man" as well as the song itself – if you feel the same the good news is that Bossa Nova Hotel is available on iTunes!