Friends, welcome back to a new episode of the Diary of An Arcade Employee podcast – on this show I am going to be discussing 1983's Congo Bongo by Sega. A classic isometric platformer that manages to meld elements of both Donkey Kong and Frogger into a rather unique if difficult game. A word of warning on this episode – I kind of hit a brick wall in regards to finding any information on who was responsible for creating Congo Bongo. As you will hear for yourself in the episode, while Congo Bongo wasn't a success in the arcades, Sega managed to get a port out for pretty much all of the popular home consoles and computers of the day.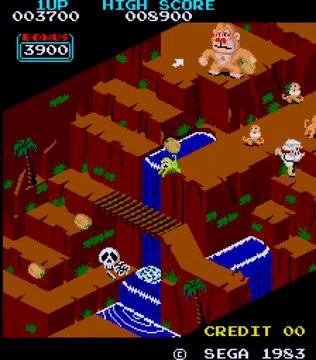 As always I want to thank you for taking time of your very busy schedule to listen to the podcast – so without further ado, don your pith helmet and prepare to trek into Congo Bongo!
If you have a moment, why not help us reach new listeners? Not only subscribe but leave us a rating and review for the Diary of An Arcade Employee podcast – whether that be on iTunes, Google Podcasts, Stitcher or Spotify?
By the way, our ending theme which is entitled "River Raid", was graciously provided by the talented Tony Longworth. If you like what you hear you can listen to more of his work over on his SoundCloud page.
If you possibly have suggestions for future episodes or want to chat about the current show – you can reach me at VicSagePopCulture@gmail.com. You can find me on Facebook or Twitter and make sure to check out the Arkadia Retrocade Facebook page. Or for daily updates you can hop on over to the Diary of an Arcade Employee Facebook page – heck -you can see videos and more fun a couple of times a week by checking out my Instagram page!
Subscribe to the Diary of An Arcade Employee Podcast:
[iTunes] Subscribe to the Diary of An Arcade Employee Podcast.
Download the Diary of An Arcade Employee Podcast:
Episode Mirror #1 (MP3)
Episode Mirror #2 (OGG)