Friends, we do apologize about the tardiness of this episode of the Saturday Frights podcast, I am afraid that the new work schedule has thrown a monkey wrench into the usual recording plans. This week though, the Projectionist and I tackle our first episode of The X-Files, that long-running series featuring the exploits of special agents Fox Mulder and Dana Scully. As brought up in the show itself, this episode was suggested by a listener, and after we presented a poll of the Top 5 scary episodes of The X-Files, the Vault staff as well as the Saturday Frights Facebook group picked the 1993 episode entitled "Squeeze". In all honesty I really thought it was going to be "Home" that won the poll, especially considering that it caused so much controversy when it originally aired that it was banned from being broadcast again for quite some time.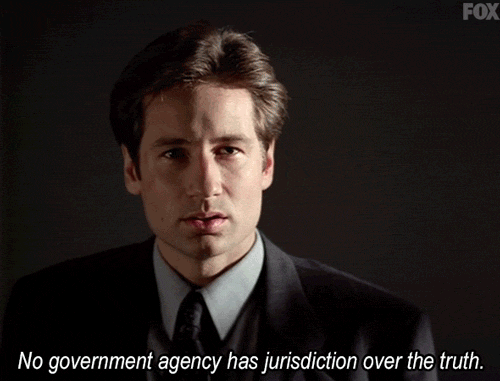 As this is the first time we've talked about The X-Files on the podcast, we have a bit of interesting trivia to share about the creation of the series. In addition to some things you might not have know about "Squeeze", including a little trouble behind the scenes during the production of the episode. Or how the screenwriters, James Wong and Glen Morgan, were inspired to write the episode featuring the mutant serial killer and fan favorite Eugene Victor Tooms (Doug Hutchinson). In addition to how their popular Final Destination film series was based off what originally had been intended to be an episode of The X-Files. In fact I provide a quote in this episode from an interview with Jeffrey Reddick at Den of Geek on how it would have played out if it had been made into an X-Files episode.
Without further ado, please join the Projectionist and myself at the Haunted Drive-In as we discuss 1993's "Squeeze" on the Saturday Frights podcast. As always we want to thank you for taking time out of your busy schedule to listen to the show, and hope that you are enjoying season three of the podcast so far.
If you have any suggestions for topics you would like for us to cover in a future episode – or possibly you have comments on the current show itself, email them to me at VicSagePopCulture@gmail.com You can also contact me on Twitter and on Facebook. In addition I certainly hope you will take the time to visit the Saturday Frights Facebook Page. There you can find posts from Rockford Jay, Preston Griffith and myself on a daily basis.
Subscribe to the Saturday Frights Podcast:
[iTunes] Subscribe to the Saturday Frights Podcast (MP3)
Directly download the Saturday Frights Podcast:
Episode Mirror #1 (MP3)