Friends, on this Retro Records offering we are going to be revisiting those two mascots used by the much missed Burger Chef restaurants, I am of course referring to Burger Chef and his teenage sidekick Jeff. In a previous Retro Records article I touched upon why I have such fond memories of the restaurant itself, it had a little to do with the fact they were offering 4 Star Wars posters back in '78, to say nothing of their patented Fun Meal. I should add while the fast food restaurant closed its last location in 1996, it did beat McDonald's Happy Meal to the punch by about seven years. With the Burger Chef Fun Meal you would receive some kind of small toy or collectible, in addition to your burger and even a dessert. I think those of us of a certain age will begrudgingly admit that McDonald's really did one better with their Happy Meal, although having said that, I cannot ever recall them offering Flexi-disc records like Burger Chef did.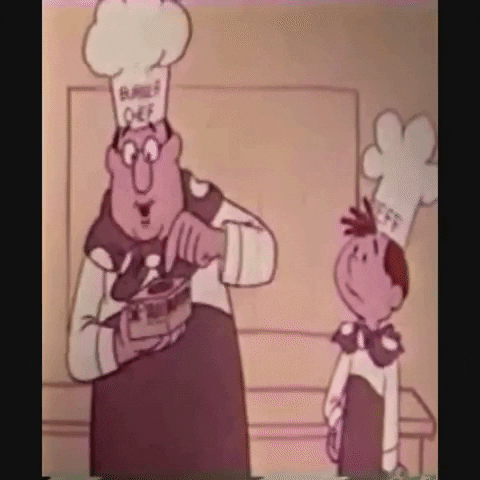 It wasn't just because of Star Wars that I was so fond of Burger Chef, as I've mentioned before it had more than a little to do with the fact they had a cast of characters made up of monsters. There was Burgerilla the Ape, Count Fangburger, Wolfburger the Werewolf, Crankenburger, and of course Cackleburger the Witch. And while it is quite true that my Father could rarely afford to take us out to eat at Burger Chef, I think it ended up making those times we did visit all the more special.
The Flexi-discs that were offered by Burger Chef were 33 1/3 records, with a running time of under five minutes long, but they did allowe for Burger Chef and Jeff to interact with those monster inspired characters. You might be interested to know that Burger Chef was voiced by the late and great Paul Winchell. Whose voice I think you might recognize from the incredible amount of Saturday morning and children's programming that he lent his voice to over the years. Just a few of his notable roles include voicing the likes of Gargamel in the Smurfs, Fleegle Beagle in The Banana Splits, as well as Dick Dastardly for many of the Hanna-Barbera produced animated series.