Friends, just the other day the sad news was shared that Henry Darrow (The Hitcher, Zorro) had passed away and just now online I saw that the iconic Yaphet Kotto has just been confirmed to have passed away at the age of 81. Both of these hit hard as they were incredibly talented actors, although we can take some small comfort that they left behind a rich legacy of film and television roles to enjoy over the years. In addition both men were discussed on separate episodes of the Saturday Frights Podcast, with Darrow appearing in the memorable "Cool Air" segment of Night Gallery and Kotto of course playing Parker in Ridley Scott's Alien.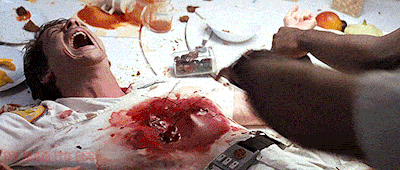 Yaphet Kotto got his start in acting at an early age, as I understand it he was cast in a production of Othello at the age of 19 before landing on Broadway with The Great White Hope. It was only four years later when Yaphet Kotto was cast in his very first film, an uncredited part in the Frank Sinatra and Dean Martin Western/Comedy entitled 4 for Texas. The actor would continue to appear in film as well as television with the likes of The Big Valley, The Thomas Crown Affair, 5 Card Stud (Another western with Dean Martin), Mannix, Night Gallery, before he landed the role of Dr. Kananga aka Mr. Big in 1973's Live and Let Die. Not only was this the very first James Bond film I saw but also the first movie I caught with Kotto and Roger Moore too – although I saw the movie during a Bond marathon at my local Drive-In about five years after it was originally released.
That marathon was just a couple of years before I caught 1979's Alien on the Movie Channel, while that science fiction/horror masterpiece is most assuredly an ensemble picture – I think it's safe to say that Kotto's performance as Parker was most assuredly memorable. And as you will hear from the actor himself, it was a role he was not just thankful for but one that managed to change his life.
Judging by his Internet Movie Database page the actor was constantly working it would seem, a few additional highlights from his career include The A-Team, Warning Sign, The Running Man, and Midnight Run. Although he might best be remembered for his role as Al Giardello in the long-running Homicide: Life on the Street.
I realize that I always say it at the end of these articles honoring actors and entertainers we've lost, but there is absolutely no enjoyment at having to write them. However as I have already said at the beginning of the article – we do have an amazing amount of work from Yaphet Kotto to enjoy as his legacy. Please feel free to share some of your personal favorite roles of the actor in the comments section.
"We will dims the lights in the auditorium in his honor."