Friends, it was about four or possibly five years ago that Gary Burton proposed an idea for a podcast called Toon In. This was back when we were both fortunate enough to be part of the Retroist stable of writers and contributors, including Allison Venezio-Preston as well as Earl Green and many others. Gary's wonderful idea for the podcast was to have the two of us, with another friend acting as third chair, to tackle everything from classic Looney Tunes animated shorts to Batman: The Animated Series. A show that would provide some of the more interesting history of a particular animated short but also offer a running commentary on the chosen subject itself. We were able to get two episodes of the podcast in the can before we had to put the show on the back-burner due to conflicting recording schedules. Until we are able to get the new podcast off the ground, Gary has been gracious enough over the years to allow me to use the podcast name for my continuing series of articles on animation. One of those shorts I had earmarked for the podcast was this 1935's Merrie Melodies offering entitled I Haven't Got a Hat. Which just so happens to be the debut animated short of none other than Porky Pig.
I Haven't Got a Hat was originally released to theaters on March 2nd of 1935, although you might be interested to know the titular song was published in sheet music form the previous year, written by Buddy Bernier and Bob Emmerich. However the song was also recorded for the live action Tickets, Please musical short film that, according to the Internet Movie Database, was released six month later and performed by The Three Sizzlers.
Not to besmirch the talents of those trio of singers but I absolutely feel that the version in I Haven't Got a Hat which was performed by Bernice Hansen is the superior version. While that classic short was the introduction of Porky Pig (Joe Dougherty) it has to be pointed out that the silent characters of Oliver Owl and Beans the Cat are meant to be the stars of the cartoon. Although it would be the Porky who would become the breakout star when all was said and done – appearing just three months later in Into Your Dance.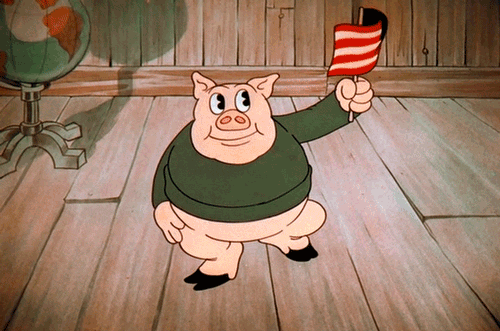 In closing out this article I want to share that I first saw I Haven't Got a Hat one early morning while waiting for the school bus on WTBS. The way that Oliver Owl treats Beans the Cat in regards to not sharing his candy always upset me – I can't say I blame the latter for wanting to get a little revenge.
A huge thanks as always to the indispensable Jerry Beck's Cartoon Research site!