Friends, it would be something of an understatement to say that the character of Superman was well received when he originally appeared in the pages of Action Comics #1 back on June 30th of 1938. The anthology series featured a handful of comic book heroes in it's premiere issue, although besides Jerry Siegel and Joe Shuster's debut of Superman, it should be pointed out that two other iconic DC Comics characters appeared for the first time too. Those would be Fred Guardineer's Zatara the Magician as well as Ken Fitch and Bernard Baily's Tex Thompson aka Mr. America or The Americommando. As I understand it, the first issue of Action Comics had a print run of 200,000 copies and it sold out – growing in popularity until nearly a million copies of the comic book were being sold a month. Furthermore the popularity of the character paved the way for a radio series just two years later, which ran for eleven years for a total of 2,088 episodes. In addition to a series of animated theatrical shorts beginning in 1941 – beautifully animated by the Fleischer Studios.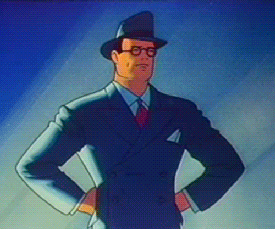 While those classic animated theatrical shorts were the first time an audience saw Superman on the big screen, it was in 1948 that Columbia Pictures released Superman, a 15-part serial that starred Kirk Alyn as both Clark Kent and Superman. The studio released a follow-up serial in 1950 entitled Atom Man vs. Superman, before the independent Lippert Pictures produced Superman and the Mole Men a year later. That 58 minute feature film starred George Reeves in the dual role of Superman and Clark Kent – acting as a pilot of sorts for the popular Adventures of Superman TV series. The show which ran from 1952 until 1958 also featured Reeves who for 26 years was quite possibly the actor best remembered for portraying the character. That is until the late and great Christopher Reeve would be catapulted into stardom for portraying the Last Son of Krypton in the Richard Donner (The Goonies) helmed 1978 big screen adaptation.
Landing that role is what this 1985 Saturday Night Live skit is spoofing – featuring comedians Rich Hall and Gary Kroeger – who along with Reeve are trying to land the lead role in the Superman film. It also has Jim Belushi portraying Richard Donner with Julia Louis-Dreyfus as his assistant.