Well, it's the holiday season, and we're in need of a job again, because all of those fast food and supermarket jobs haven't exactly panned out.
I don't know, maybe we're just not cut out to work around food.  However, we are cut out to work retail – I mean, we did great at Ames…until flim-flam got the better of us.  We just really don't want to go back to hot drinks, cold drinks (gotta serve the drinks!), or mastering the grill skills of the four-corner press for Wendy's hamburgers.  And it was Jewel's Own Joan and everyone at both A&P stores that taught us all the wrong ways to succeed at Customers First, Thinking to Preventing Shrink, and the CLEAR method while working at grocery stores.  And don't even get me started on all three Hardee's stores we tried to work at!  But maybe this new job we found – this very job – will be the one that turns it all around for us.
We're going to work at a video game and computer store!
Software Etc…, Where The Store Is the Effective Medium of Advertising!
Software Etc… opened in 1985 through B. Dalton to sell computer books, computer software, accessories, video games, and gaming consoles.  Initially operating within B. Dalton locations, the company began going into standalone stores by 1987, when it was spun off from its sister store.  In 1994, Software Etc… successfully merged with fellow computer store Babbage's (now that's another mall fixture…remember them?).  In 1996, NeoStar Retail Group Inc., then owner of both Software Etc… and Babbage's, filed for Chapter 11 bankruptcy, but the plan to close all 707 locations was halted once NeoStar's assets were sold to an investor group.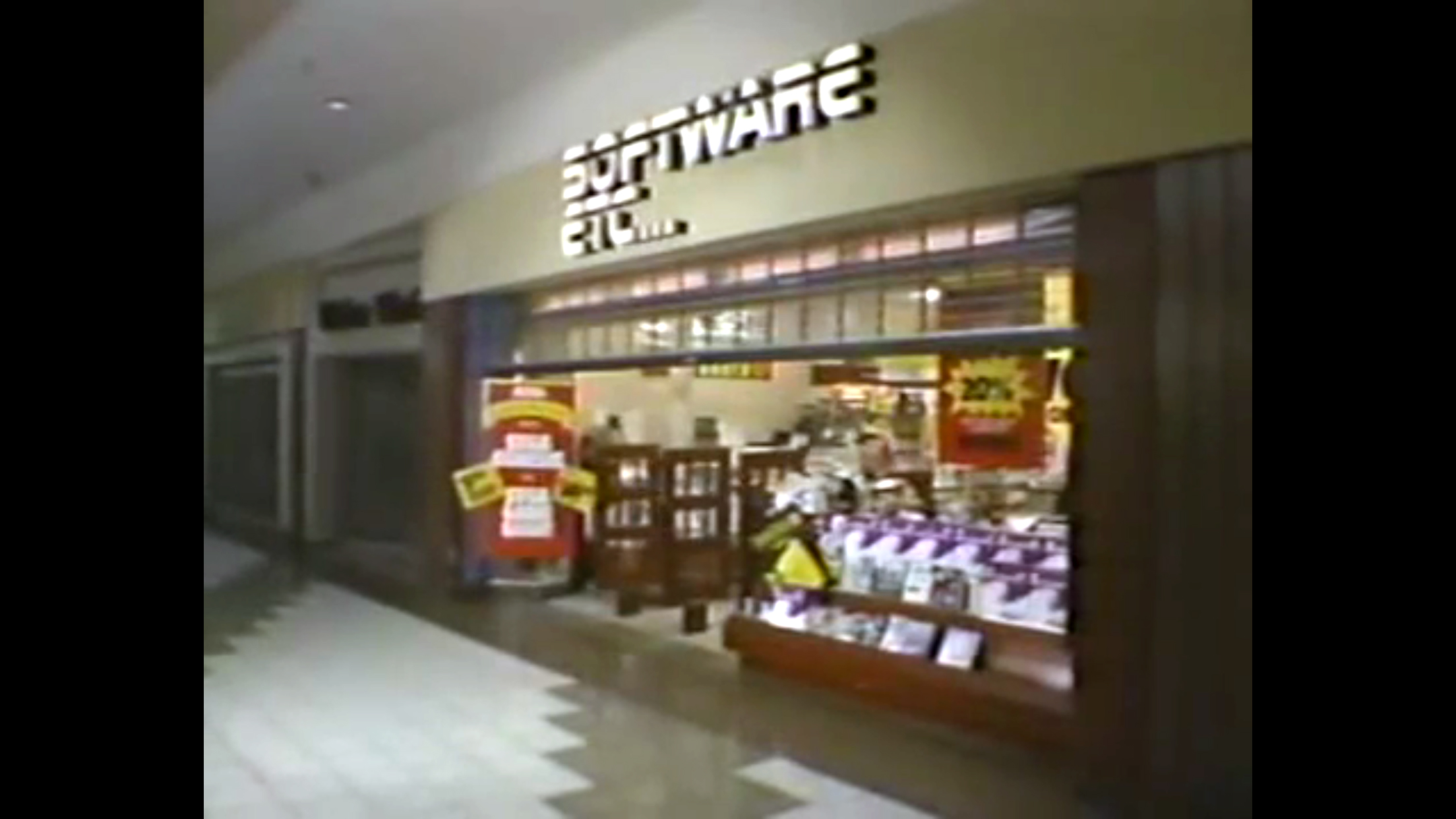 In 1999, the newly formed Babbage's Etc. (obviously a merger of both chains' names) launched GameStop, and was then sold to Barnes and Noble, effectively reuniting Software Etc. with its original parent company, B. Dalton.  In 2000, Barnes and Noble then purchased Funco (who owned the video store FuncoLand), and merged Babbage's Etc. to become a wholly owned subsidiary of Funco, with Funco's name being changed to GameStop.  By 2004, GameStop became independent of Barnes and Noble, and at that time, the Software Etc. name was phased out, effectively retiring the brand at that time.
As for its original parent company, B. Dalton, the last fifty locations closed by January 2010, with the exception of the Union Station (Washington D.C.) and Roosevelt Field Mall (Garden City, New York) locations.  Those closed in January 2012 and February 2013, respectively.
So it seems "this store closed eventually" seems to be a recurring – and somewhat, though not totally, predominant – theme in my search for training videos.  Though in the case of this find, it is not at all shocking that the company name has since been retired.  Heck, I'm shocked anyone stayed there after seeing this video.
Software Etc…'s (I'm trying to figure out how to actually not make the name of the store look weird in its possessive form) training video, 1001 Retailing Nights, takes the concept of 1001 Arabian Nights and combines it with I Dream of Jeannie (?????), to discuss visual merchandising.
Yeah, I know.  It all sounds so crazy and "Grill Skills" like, right?
Part 1: Basic Visual Merchandising
"Follow The Plan-O-Gram!"
This is Bob (in the blue shirt), and he's staying after store closing to prepare the local Software Etc… store for the new merchandising kit. He reassures who I'm assuming is his manager (who reminds me of Miles from Murphy Brown, without the nervousness) that the Plan-O-Gram will be completed for "first thing the next morning."
And to drive home the absolute importance of following the Plan-O-Gram, we get to see Bob's point of view.
Terrifying, isn't it?
And in the process of looking for the Plan-O-Gram, he finds…a computer.
After cleaning it up, including rubbing the dirty screen, he awakens…a genie.
Could this be any more "Grill Skills"-eque?
The Genie emerges from the Mac-A-Wish 1001, rather than Bob getting sucked into it like Bill from Wendy's did.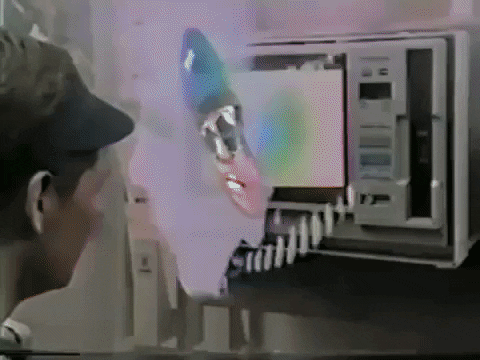 Because we can't have that, can we?
"Boss, the new hire got sucked in the training video again!  Yes, again!"
Bob is impressed by her outfit, and I'm impressed by her…pose.
After Genie brushes off his dorkiness (because even she not impressed after being trapped in the computer for who knows how long), she informs Bob he has three wishes, and only this millennium to grant them.
Oh, and she's Not Don Pardo.  Remember that!  Not Don Pardo!
What Bob needs most is help with his store's visual marketing, and needs to know why it is a big deal.  You know, nothing crazy.  The Genie conjures up the company's President, Daniel DeMatteo (much to Bob's horror) to read his speech on Software Etc.'s effective media…the store itself.  Theme signing and what the store sells are the "advertising," according to Mr. DeMatteo.  Bob (Todd/Rob) understands this, and Genie makes him disappear.
The Genie then conjures up Roxanne (who reminds me of Pearl Forrester), who explains the marketing plan, but not after freaking out about the "nightmarish" condition of this store.  Genie reassures her that after she explains the marketing plan to Bob/Todd/Rob, she can go back to dreaming about Kevin Costner, which was probably very relevant in…the early 1990s?
She succeeds, and is off to dreamland again.
And finally, Stan Hirschman (VP of Stores), and his dog Duke are conjured by our Genie.  He's not in Kansas anymore, but instead a messy Software Etc… in parts unknown.  He (seemingly unenthusiastically) explains the Visual Merchandise Guide, and how the store is set up – Video Game Cartridges and consoles in the front (keeping trends in mind), then Software, Features and Sale Items, Bargain Items (Under $15), and Books and Accessories.  A well-merchandised store helps the customer find what they're looking for, he says, before The Genie makes him disappear.
First wish granted!
On Bob's second wish, The Genie helps him properly set up the store according to the marketing plan – Window Display, Demo Wall, Vendor Displays, Cash Wrap Wall and Display.  A disembodied voice (the unseen GO) reminds Bob to set up the store according to this prioritized setup, as store structure allows.  HIGH PRIORITY SPACE, he commands as lights flash!
That leaves one more wish, and Bob wants The Genie to "finish the job up."  This means preparing the store visually – fixtures are set up properly, as are category and subcategory space, cleaning (vacuuming and dusting), placement of pricing stickers, making good use overstock wall storage as a visual space, placement of all other stickers (display, special sale), and setting up displays so they aren't overcrowded or obstructing the category sign.  She also "redoes his gondola," which she makes sound dirty for some reason.
She leaves Bob (she finally got his name right!) with a final tip – if you can't follow the plan precisely…use common sense.
The incorrect name became part of the attempted joke.  It's all pretty cheesy.
With Parts Unknown's local Software Etc… finally set up according to the Plan-O-gram, Bob closes the store for the night.  Bob's biggest satisfaction that his Software Etc… is ready, while thinking in voiceover about The Genie and how she stole his heart…and taught him visual marketing.
He doesn't say "stole his heart," but it was implied.  By me.
Part 2: Marketing Plan Compliance
"I am (echo) THE MASTER!"
After the training-within-the-story, we move on to part two, which goes over the Marketing Plan step-by-step, a checklist of sorts.  Bob leads new hires through the Marketing Plan, asking those new hires to investigate their store's compliance, and grade it according to how closely it follows the plan (scale of 1-3, 3 being accuracy, 2 being almost accurate, and 1 meaning the store needs some work).
It is this part where I get the impression that Bob isn't merely a Store Associate, but he's actually an expert (his words) – the "master," as he proclaims in echoed voiceover, like he's He-Man, but bumbling, skinny, and geeky.
This portion of the video allows Bob to put his cheesy (but cheerful) personality on full display, like a bumbling sitcom character working in your local Software Etc.  He seems like a fun personality to work with, and clearly knew how a store should look, having followed the feedback of shoppers.
This portion of the video also goes over the do's, don'ts, and exceptions of displaying products.  Vendor-provided signs are a no-go (unless it is in the plan, of course!), but different versions of the same title, and substitutions should a "featured title" sell out are allowed.  Never improvise on placement of stickers, and use the appropriate-sized shelf for the products on display.
Bob's checklist "test" covers theme signing, storefront tables, "Shelf Talkers," endcaps, demo wall, window display, vendor displays, video games, ETC-TV (the in-store video), and the cash wrap.
It's a lot, but then again, so is effectively setting up a store so your customers can find what they need and want.  Any good training video worth its salt in effective training has a lot of ground to cover, after all.
Nobody can resist this visual merchandising, am I right?
Hey, she looks familiar!
1001 Retailing Nights, Like 1001 Retailing Days…
1001 Retailing Nights is from the early 1990s, based on the trendy video game consoles in the video (did you notice the constant exposure of the Game Gear), and it covers all the important aspects of store setup according to corporate standards.  As I said, it is a lot (it is 32 minutes long), but it is funny watching Bob feel his way through aiming for the exact perfection Software Etc… aims for.
I hope you enjoy this video as much as I did!
Article Images and Video Provided by capnskull
I remember the name Software Etc…, but I'm not sure if there was ever a location at our mall.  There was a Babbage's at the mall near where my grandparents lived, but my mall had two Electronics Boutique locations – one remained under the EB Games name, but the one directly above it on the second level became GameStop.  Ironically, that GameStop moved to where B. Dalton was located (Foot Locker is also in that spot), and EB Games eventually closed.  there's a convenience store there now, and I think the upstairs GameStop became The Icing.  As for the Babbage's location I'm familiar with, I haven't been to that mall in about 15 years, so I have no idea what's in that location.
I tried to find out anything I could find on Software Etc… behind the information I gave earlier, like who Bob is (even Roxanne was impossible to find information on!), but there isn't much to come by.  The only reason I was able to get some of the names I got is because if you Google the names with Software Etc…, there are results.  However, Googling "Software Etc. Bob" doesn't really yield much in the way of results.  Whoever he is, I hope he is doing well, and still responsible for visual merchandising at its finest.
As for this woman, I wonder who she is in association with Software Etc…
One of those great mysteries, right?