Friends, the other evening I was watching some YouTube videos when I stumbled upon this 1998 short film entitled Larger Than Life from Ellory Elkayem. That name might not ring a bell, but this 13 minute short film is a throwback to the science fiction/horror B movies of the '50s like Them! and Tarantula. It also ended up acting as a calling card for Ellory, who wrote and directed Larger Than Life – being shown to both Dean Devlin and Roland Emmerich after it's debut at the Telluride Film Festival. Of course Devlin and Emmerich knew a few things about science fiction films with Universal Soldier, Stargate, and Independence Day. After getting a chance to screen Larger Than Life – seeing someone who appreciated their own love of the marauding giant monster movies of the '50s – they helped produce a big budget version of his film. The result was 2002's criminally underappreciated Eight Legged Freaks – which starred David Arquette (Scream, Ravenous), Kari Wuhrer (Anaconda, Thinner), and Scarlett Johansson (Ghost World, Jojo Rabbit).
Even the trailer was having fun with the concept of Eight Legged Freaks – which by the way has been said to have been an ad-lib by David Arquette. Apparently the original title for the film was going to be Arach Attack, a line from the film itself, and for releases in some countries it managed to keep that title. A fun fact is the CGI giant spiders in the film were 'voiced' by none other than Rob Paulsen (Pinky and the Brain), Frank Welker (Scooby-Doo), and Kevin Michael Richardson (The Batman).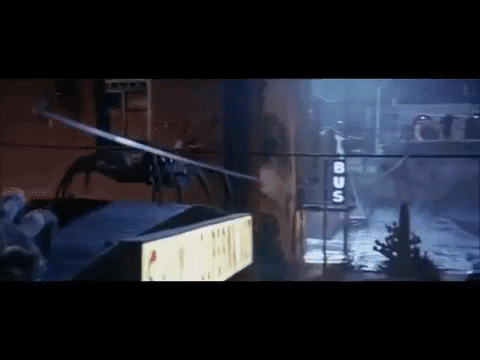 You can totally see the seeds of what would become Eight Legged Freaks in Larger Than Life – in particular the humor of the short film. It stars Rebecca Hobbs as Jo, a young woman whose main concerns are getting settled into her new home – until thanks to a chemical spill – she ends up fighting for her life against a series of increasingly larger spiders.