Friends, since yesterday saw the release of the new Saturday Frights podcast, focusing on the Tales from the Crypt episode entitled Cutting Cards – I thought you might like to enjoy one of the other two horror comic books that EC Comics published back in the day. While Tales from the Crypt is probably the comic book that most folks are familiar with, thanks in no small part to the HBO television series, the other two horror comics were The Vault of Horror and The Haunt of Fear. Interestingly enough, the latter of those three comics was originally a western themed book entitled Gunslinger – however when horror tales became popular – the title and subject matter was changed to The Haunt of Fear.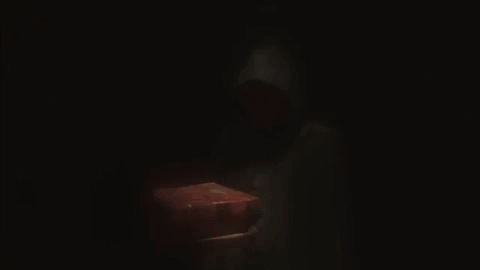 Fed Up was originally published in The Haunt of Fear #13 back in 1952 – featuring a story by Al Feldstein from an idea by Bill Gaines with artwork provided by Johnny Craig and coloring by Marie Severin. There were four stories in total in this issue of The Haunt of Fear – including a short story entitled Witness that was written by Feldstein. A trio of hosts were featured in each issue of the EC Comics horror titles – but each was given the spotlight in their own books – with the Crypt-Keeper in Tales from the Crypt, the Vault-Keeper in The Vault of Horror, and the Old Witch with The Haunt of Fear.
Thanks to The Holder of Tales YouTube channel – you can watch and listen to the audio production of this particular tale from The Haunt of Fear for yourself.
The story for Fed Up concerns a young married couple named Sandra and Alec, the former happens to be employed by a carnival called Munrabt's Odditorium – working as a sword swallower. Sandra while gifted apparently needs just a little something extra special in her act to bring in the crowds – she has the perfect idea about purchasing a gimmick sword – but the problem is Alec greedily takes her earnings and spends it all on fancy dinners for himself. No matter how hard Sandra works to make a better life for herself and her Husband, Alec just takes and takes, growing larger as he gorges himself – depleting their finances.
The question is however, what will Sandra do once she is finally Fed Up with Alec's behavior – being an EC Comic though you can bet your bottom dollar that he will get his just deserts!