Friends, there were many noteworthy releases under the Power Records imprint, produced and released by Peter Pan Records starting in the '70s. Many of them based on popular films, television series, and comic book characters – as a mater of fact we've shared more than a couple right here on the PCR site. If I am being completely honest, there are a few releases that might cause you to raise an eyebrow though – such as Kojak, The Man-Thing, Dracula, and even Conan the Barbarian. Those last three were licensed from Marvel Comics by the way – but the story lines for all four have elements that you might describe as being rather mature/scary for a children's record. Of course when the subject of the record is Conan the Barbarian you expect stories filled with adventures of derring-do and epic battles for survival, right?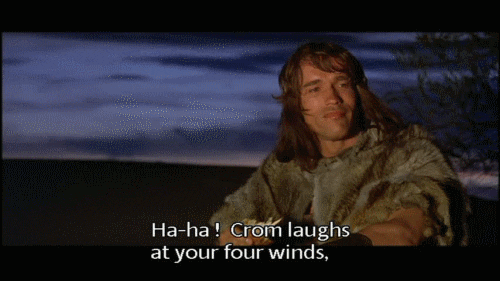 The Thunder Dust is one of four stories featured on the 1976 Conan the Barbarian LP – along with The Crawler in the Mists, The Jewel of the Ages, and Shadow of the Stolen City. As I understand it, The Crawler in the Mists was also released as a book and record set – in 1976 as well I believe.
While I have not been able to locate any information on who provided the voices for this 1976 LP – at the very least I can tell you that it was Neal Adams (Batman, Green Lantern/Green Arrow) who provided the artwork for the cover of the record album. Having said that however there is the possibility that Adams has inked over pencils provided by John Buscema – that is just my opinion though.
The story for The Thunder Dust finds Conan in a bit of trouble – thanks to all things being swindled by a clothes merchant. The result is he finds himself being shanghaied – forced to act as an oarsman… until the Cimmerian decides to fight for his freedom. The titular dust is a mixture that explodes when introduced to a source of flame – a bad thing to have on a ship with an angry Conan, right?