Friends, it was 30 years ago today that Universal Pictures released Darkman to theaters in both Canada and the United States. 30 years ago this afternoon I was sitting with my Father in a small auditorium of a local theater – totally excited to catch this new film by Sam Raimi – an idol of mine thanks The Evil Dead and it's sequel/reboot. By the time that Darkman was released I pretty much watched E!: Entertainment Television non-stop – so I had caught the trailer for the film quite a few times leading up to it's release. As the house lights began to dim I was nervous with anticipation, I was ready to experience Raimi's dark super hero film, I was excited to hear a new soundtrack by Danny Elfman… I was also apparently sick as I vomited just as the trailers started.
Needless to say, my Father and I left the theater in quite a rush, stopping off at the concession stand long enough to alert an employee that we were leaving quite a mess… as well as an auditorium of shocked theater patrons. So while it is the absolute truth that I was there for the first showing of Darkman 30 years ago – I did not actually get to see the film until a week later. Honestly, it was well worth the wait, as Raimi's obvious love for the likes of The Phantom of the Opera and pulp characters such as The Shadow were quite evident.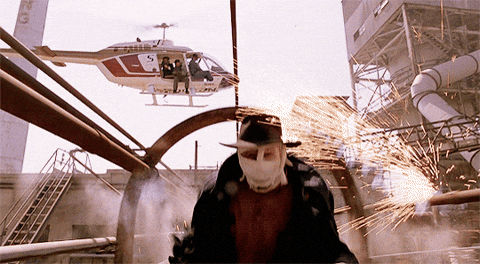 In fact it wouldn't be until a bit later, when I read in Comics Scene magazine, that I learned Sam Raimi had initially attempted to secure the rights to film adaptations of both Batman and The Shadow. As Tim Burton delivered his colossal box office hit the previous year, it's understandable why Raimi couldn't obtain the rights as the film was already being worked on, but I can't help but wonder what his version of The Shadow would have been like. I can tell you that minutes into watching Darkman I was absolutely loving it – with it's over the top and stylized comic book-like action sequences – to the pathos often found in the classic Universal Monster films. While the character of Peyton Westlake aka Darkman is in all honesty a psychotic and tortured vigilante – much like the Punisher in some regards – he could easily be included in the pantheon of Universal Monsters in my opinion. Something that I believe Sam Raimi touched on in an interview with John Stanley of the San Franciso Chronicle from August of 1990:
"I decided to explore a man's soul. In the beginning, a sympathetic, sincere man. In the middle, a vengeful man committing heinous acts against his enemies. And in the end, a man full of self-hatred for what he's become, who must drift off into the night, into a world apart from everyone he knows and all the things he loves."
I personally think that Sam Raimi and those involved with the making of Darkman succeeded with flying colors in that aspect. Of course a lot of what makes the film wonderful – besides the visual flair that Raimi is known for – is naturally the actors they were able to land for the picture. Liam Neeson (Excalibur, Krull), Frances McDormand (Blood Simple, Hill Street Blues), Colin Friels (Dark City), and Larry Drake (Dark Night of the Scarecrow) to name just a few. The result were performances that actually made you care about the characters – in particular with Neeson as Westlake/Darkman and McDormand as his love, Julie Hastings – you truly felt bad their lives are torn asunder by the likes of Robert G. Durant (Drake) and his goons. Due to the medical process that Westlake undergoes – he can literally feel nothing – he is living in a void which has the unfortunate side effect of driving him slowly insane. As Darkman straddles the line between a horror and superhero film – it gave Raimi the opportunity as usual to put his own brother through the ringer.
As I understand it from reading some new articles online, the Darkman we all saw and enjoy, came about thanks to some shenanigans by the filmmakers after the movie was supposed to have been locked. Of course another element that made the film so great was the soundtrack provided by Danny Elfman – take a moment and listen to the track entitled Woe, The Darkman… Woe! – tell me it isn't absolutely perfect for a film about a tortured superhero.
The box office success of Darkman would spawn two direct-to-video sequels as well as comic books, toys, and even a few video games. In addition before the first sequel entitled Darkman II: The Return of Durant hit video stores in '95, there was a failed attempt at a television series three years earlier – starring Christopher Bowen (Homefront) as Westlake/Darkman, Kathleen York (In the Dark), and Larry Drake reprising his role as Durant. Incorporating actual footage and music from the feature film, the pilot is… interesting… I truly feel you can see the diamond in the rough but I understand why networks passed on it.
So in closing, a very Happy 30th anniversary to Darkman – the first film in my mind to successfully give horror fans a superhero of their very own.