Friends, it is certainly true that when Star Wars was released in the States in 1977, very few people were truly ready for how much George Lucas' space opera was going to blow audiences away. On the Retroist site in the past I have shared how my Father and I caught the first matinee showing, enjoying the film immensely with an auditorium that was perhaps half-full. While we went in blind with no real knowledge of the film, beyond the fact that it was obviously a science-fiction movie, I can remember walking out of the auditorium feeling a little numb… I had never seen a film that was quite so epic. The next weekend however when it was time to go see it again, the word had apparently gotten out in our neck of the woods about Star Wars as there were a line of people completely around the building. And the truth of the matter is it didn't slow down, it continued to sell out as people returned to the theater so they could experience the fun and thrill of Star Wars over and over again. Seeing that film back in the day is one of the most cherished movie going experiences of my youth. In addition it was a cultural landmark for pop culture that changed the way movies were made, as well as how much fans would embrace a franchise.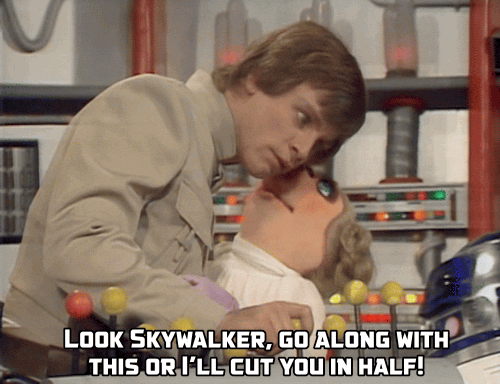 That was here in the States though – what about the folks across the pond in the United Kingdom? Star Wars had it's London premiere on December 27th of 1977 – with a wide release beginning on January 29th of '78. It was a little bit different for fans of science fiction in the UK as this 1978 MovieTone News report illustrates – as thanks to magazine articles and such, the public were already getting a glimpse at moments from the film. They just had to wait patiently for eight months before it opened up in theaters near them so they could see it for themselves. The build up for the release of Star Wars appears to have reached such a fever pitch that props, costumes, vehicles, and stills were featured at London's Science Museum – to say nothing of the highly sought after toys showing up at the 1978 Toy and Hobby Fair.
So enjoy this look back at both the 1978 Toy and Hobby Fair as well as the opening of Star Wars in the UK – courtesy of Movietone News.