Friends, it was 25 years ago this very evening that I was standing in line with my friends and a whole lot of people to catch Waterworld, the latest film to star Kevin Costner after both Wyatt Earp and The War from '94. Standing in line I remember overhearing a lot of chatter from my fellow audience members and it wasn't about whether Waterworld was going to be any good. All I can recall folks talking about around me was how this was the most expensive film ever produced – which was certainly true at that time. I can honestly say that the price tag for Waterworld was the furthest thing from my own mind while I waited to be admitted into the auditorium – I just wanted to see a good post-apocalyptic movie . When I walked out of that theater with my friends over 2 hours later, I was pleased, apparently more so than those who saw Waterworld with me. Do no get me wrong, in no way am I saying that the film is perfect – but 25 years later I will readily admit that I still get a kick out of this Road Warrior on the high seas.
Now to be totally honest I will have to say that I think that 1997's The Postman is by far the better post-apocalyptic film. But I thought that Costner, Jeanne Tripplehorn, and Tina Majorino did a fine job – plus Dennis Hopper was able to tamp down his performance from Super Mario Bros. from two years earlier and delivered a credible villain in Waterworld.
For what it might be worth, the script for Waterworld was written all the way back in 1986 by Peter Rader, although as I understand it he didn't submit it until three years later. In an article from Starlog from '95, Rader freely admits that the idea for the film was in response to Mad Max – even with the rewrites by David Twohy (Warlock, Pitch Black) I think that is still quite evident. Having said that I've read online that Twohy claims it was The Road Warrior that he was most influenced by when rewriting the screenplay. Funny enough Waterworld just so happened to have Dean Semler as Director of Photography – who as it turned out worked on Mad Max 2: The Road Warrior.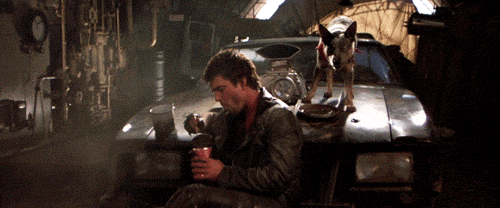 While Waterworld wasn't embraced with open arms by the public at the time – it did manage to earn a profit thanks to the box office take from overseas – as well as home video and the like. At the end of the day, it deserves it's cult film status, which is why it was released by Arrow Video as a three-disc Blu-ray set in January of 2019 – one that contains the theatrical cut, the television cut, as well as the "Ulysses" cut (European version with additional dialogue and censored scenes).