Friends, it really is hard to believe but we've reached the 50th episode of the Diary of An Arcade Employee podcast – when I started out on the Retroist with the show I could only dream we would make it this far. Having reached the 50th mark – I think I can honestly say there might even be an episode or possibly two that managed to be good. As I hinted at with the Kung-Fu Master episode last week – this week we are tackling Starcade – that iconic arcade video game show that aired on WTBS the Super Station beginning in 1982 and with it's last first-run show broadcast in 1984. I have done my best to shine a spotlight on the creation of the series – which is thanks to James Caruso as well as Mavis Arthur of JM Productions. You might be surprised at just how many obstacles the duo had to overcome before Starcade was picked up by Ted Turner for his cable TV station – broadcast on December 27th of 1982. When all is said and done this is a television game show that can claim to have had four hosts – beginning with the original pilot in 1981 until it's first broadcast on WTBS.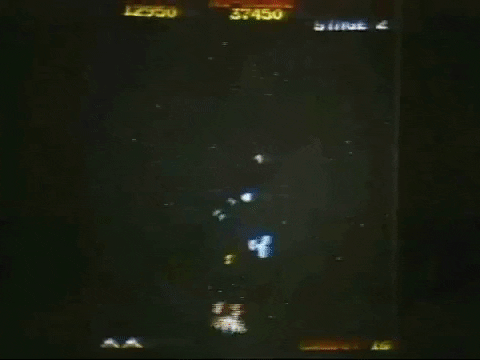 I am happy to say that Starcade has an official site where you can watch many of those classic episode – in addition they also have an official YouTube channel you can enjoy as well. As I mention in the show itself – I owe a great deal of thanks to Bleeding Cool, The Golden Age Arcade Historian, and Dragon's Lair Project sites – as they managed to collect information and interviews with the likes of James Caruso and Mavis Arthur of JM Productions. Giving us fans of Starcade a glimpse behind the curtain of just how much work they put into the show to get it on our television sets. Thanks to this information we also learned why the game show managed to have so many hosts – including Mark Richards and of course Geoff Edwards.
On this show we have the return of Earl Green, who not only provided a clip from his Best of the Classic Gaming Expo 2003 DVD that features Richards, but also shares the time he attempted to become a contestant on Starcade. We also have Gary Burton with a new segment – not focusing on any one arcade title this go around but sharing a personal memory of how we became the best of friends.
As always I thank you one and all for supporting the podcast – I know there are hundreds of shows out there that tackle classic arcade and home console games – so the fact you would take the time out of your busy schedule to listen to mine is an absolute gift. So I hope you will enjoy this 50th episode of the Diary podcast and are ready to find out all about the Starcade TV series!
Remember that for even more pop culture related goodness – make sure to check out Earl's own website, the Logbook.Com – absolutely one of the best and longest running sites for all your retro needs.
If you have a moment, why not help us reach new listeners? Not only subscribe but leave us a rating and review for the Diary of An Arcade Employee podcast – whether that be on iTunes, Google Podcasts, or Spotify?
If you possibly have suggestions for future episodes or want to chat about the current show – you can reach me at VicSagePopCulture@gmail.com. You can find me on Facebook or Twitter and make sure to check out the Arkadia Retrocade Facebook page. Or for daily updates you can hop on over to the Diary of an Arcade Employee Facebook page – heck -you can see videos and more fun a couple of times a week by checking out my Instagram page!
Subscribe to the Diary of An Arcade Employee Podcast:
[iTunes] Subscribe to the Diary of An Arcade Employee Podcast.
Download the Diary of An Arcade Employee Podcast:
Episode Mirror #1 (MP3)