Friends, over on the Diary of An Arcade Employee Facebook page about once a week we have a little image trivia – to see which of the Arcade Addicts that frequent the page can identify the arcade game from a screencap. Last week the game in question was revealed to be Pandora's Palace by Konami and originally released into the wilds of the arcades back in February of 1984. This was definitely not an arcade game that I ever played much less saw in my youth – although watching a playthrough of Pandora's Palace I thought it might make a great game to shine the spotlight on. A few of the Arcade Addicts that visit the page hadn't heard or played the game either – one of those visitors was none other than Willie of Arcade USA – who decided to make a playthrough video of his very own!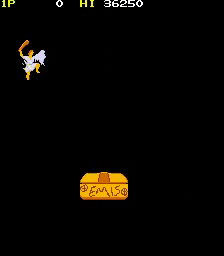 As you will see from the Arcade USA video, Pandora's Palace is not the easiest of games in the Platform genre. Doing a quick bit of research it appears that Konami offered the game to arcades as both a standard cabinet and as a conversion kit.
The story for Pandora's Palace is that the Player takes on the role of a Roman Emperor who is doing his best to destroy the evils released from Pandora's Box. When a player grabs some of the grapes hanging from the various spots on the stages – they will become temporarily invulnerable after donning a suit of Centurion armor – allowing the Player to stomp on the heads of the enemies as they pass by. Although you have to be careful of running into the enemies as they can knock you back a couple of spaces – right into the deadly fire!
A huge thank you to Willie of Arcade USA – not just for always letting me share videos but for being kind enough to mention the Diary podcast during the video!