Friends, for this Retro Records article I felt it might be nice to once again share a classic Read-Along book – in this case the 1989 Buena Vista adaptation of Indiana Jones and the Last Crusade. The cherry on top of this particular Read-Along offering is that is narrated by none other than John Rhys-Davies – who played Sallah in both Raiders of the Lost Ark as well as in Indiana Jones and the Last Crusade. While no one else attached to the film lends their voices to the the adaptation, I was quite surprised to find that book itself revealed the rest of the voice cast and even the writer, editor, etc. While it most definitely presents a condensed version of the third Indiana Jones film – it is only 24 pages long after all – it does nicely manage to cover the highlights in my opinion.
I didn't pick up this Read-Along book and tape when it was originally released in '89 – I suppose I felt I was a little too old for it at the time. Although I will be totally honest and admit that if I had known John Rhys-Davies narrated the adaptation I would have most definitely done my best to get my hands on it – as Sallah is my second favorite character from the first film. However I did have the book and records for both Raiders of the Lost Ark and Indiana Jones and the Temple of Doom. In fact back in 1984 just before the latter hit theaters there was a special advanced screening held in my neck of the woods – the only way you could attend was to win a pair of tickets from a local radio station. I was so intent on winning that I took a handheld radio with me to school – it was practically glued to my ear the entire day. That afternoon we had a field trip to the city pool and while my fellow classmates enjoyed the water I sat by myself and kept listening… waiting for one particular question to be asked. What was the name of the rival archaeologist in Raiders of the Lost Ark?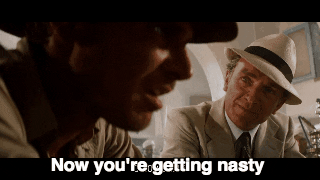 It was at that pool the question I had waited all day to hear was broadcast – I ran to the payphone and dialed frantically but wasn't able to get through I am sad to say. So I stood there with the radio in my hand and listened to the caller get the answer wrong – the rival archaeologist was Rene Emile Belloq – not Toht. On the other hand with the one question I was positive I could answer out of the way, I switched off the radio and enjoyed the rest of the day swimming.