Friends, a couple of days ago while killing some time before the Watch Party we hosted on the Saturday Frights Facebook page, I stumbled across an article from James Whitbrook of Io9 – sharing that Blue Oyster Cult had the day before released a "Lock-down" version of their cult favorite "Godzilla". That Watch Party had some technical issues – delaying us for a little over an hour, but that gave me ample time to listen to "Godzilla" multiple times and let me be honest and say it is pretty difficult to stay bummed when listening to the catchy tune.
While the sad truth is Blue Oyster Cult should be out there this very minute on tour, with COVID-19 rearing it's ugly head, it is quite understandable why they cancelled some of the current dates on said tour. At the end of the day we can take comfort that the legendary band consisting of Buck Dharma, Eric Bloom, Jules Radino, Danny Miranda, and Richie Castellano are still getting together to entertain their fans from their personal home studios.
"Godzilla" was originally released back in November of '77 on the Spectres album – with apparently the single coming out in February of the following year. Surprisingly enough the song, which was written by Dharma, didn't take off when originally released – even though it most assuredly had radio play. Another fun fact that is until Godzilla: King of the Monsters last year, the song had never been featured on any of the iconic kaiju's numerous films – although I should point out that "Godzilla" used perfectly at the end of the 2019 film is a cover by Serj Tankian and Bear McCreary (God of War, Battlestar Galactica).
While I'm getting off the original topic of this article – SHOCK – I have to take this opportunity and say that while Godzilla: King of the Monsters was not a perfect film – I felt it sure deserved a better take than it ended up collecting. Not to mention that the tepid response from movie goers caused the follow up film Godzilla vs. Kong to be moved from it's March 13th date to May 22nd and then May 29th and now November 20th. Which to be fair has given the studio and filmmakers plenty of time I suppose to tweak the film in an effort to make all of us fans of the cinematic MonsterVerse that was begun with Godzilla in 2014 quite happy.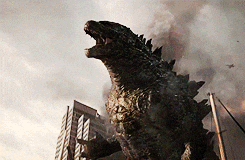 Now if they would just release a darn trailer for the upcoming film or even a movie poster for me to take my time and drool over. Until then though that gives us plenty of time to keep enjoying the Blue Oyster Cult performing their "Lock-down Godzilla", right?