Friends, a couple of days ago I had the opportunity to chat with Earl Green into the early hours of the morning – talking about video games and television shows that we wished were readily available. At one point the subject turned to Peter Wyngarde's starring role in the series Department S which originally was aired back in '69 – in addition to his follow up show entitled Jason King that debuted in '71. While I do know of those series, I am afraid I've not had the pleasure of seeing them for myself – I know Wyngarde best for his role as the scheming General Klytus in the 1980 film adaptation of Flash Gordon. Which is when Earl asked if I had seen Life After Flash, the unflinching 2017 documentary that catches up with Sam J. Jones – to see where his career and life has led him after appearing in one of the greatest cult classic films of all time.
If you count yourself a fan of 1980's Flash Gordon, I cannot stress how much you should check out the documentary – I believe it is on both Tubi and Amazon Prime streaming services at the moment. Jones along with his Family and Friends do not hold anything back – throw in interviews with Peter Wyngarde, Brian May, Melody Anderson, Richard O'Brien, Martha De Laurentiss, and of course Brian Blessed to name a few and you have pure magic.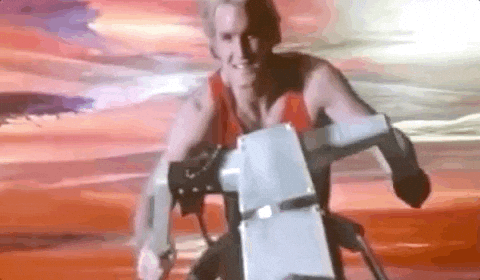 There is a moment in Life After Flash where they discuss the rather novel approach to the television advertisements – treating them a little like the 1936 serials starring Buster Crabbe. Giving viewers highlights from the movie with heavy narration and ending it all in a sort of cliffhanger – which I think is amazing and I cannot recall the format ever being used again.
I have only been able to find two of the Television ads online – surely they must have had a third commercial featuring Brian Blessed as Prince Vultan, right? At the very least with the second offering we get Timothy Dalton's fantastic Prince Barin and his forest moon of Arboria – including that disgusting creature that traps Flash as he attempts to escape.
In closing this article, since we began by talking about the late and great Peter Wyngarde – enjoy this intro to Department S, which includes that memorable theme by Edwin Astley.