Friends, did you know three days ago marked what would have been the 87th birthday of the late and still great Frank Gorshin? Living up to the title of legendary, Gorshin was an incredibly talented comedian and impressionist – a regular on The Ed Sullivan Show and Tonight Starring Steve Allen – although he is probably best remembered as the Riddler from the 1960s Batman TV series. So I thought for this Retro Records article we should pay tribute to Gorshin by sharing a Power Records offering from 1975 entitled If Music Be The Food Of Death – which features the Riddler. It seems that this particular story was shared as both a 45 and a 12-inch record – the latter featured not only If Music Be The Food Of Death but Stacked Deck, The Scarecrow's Mirage, in addition to Challenge of the Catwoman. I have no doubt you can figure out which villain Batman and Robin faced in those stories – to say nothing of how clear it is who is really the equal of Batman, right?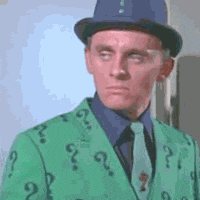 Thanks to the Discogs site I can share with you that Joan Wile wrote If Music Be The Food Of Death with music on the album, including a cover of Neal Hefti's theme from Batman '66, provided by Jack Shaindlin. Of interest is Shaindlin got his start in the business back in '42 by providing music for The March of Time newsreels.
Now the synopsis for If Music Be The Food Of Death is probably what you think – a series of riddles from 'The Prince of Puzzlers' and 'The Count of Conundrums' we know as the Riddler puts Batman and Robin on the case. I definitely will say that at least for a little bit the Riddler definitely gets the best of the Dynamic Duo – but will Batman and Robin be able to stop the villain's dastardly plan before it is too late?
While I freely admit that I am biased when it comes to the Riddler being the greatest member of Batman's Rogues Gallery – we would love for you to tell us your favorite in the comments section.