Friends, since I shared that awesome 1983 Dungeons & Dragons View-Master reel set the other day and I have in the past on the Retroist talked about how much I loved the Fisher-Price Movie Viewer Theater, I thought I would discuss the General Electric Show 'N Tell phono viewer. This was an interesting combination of record player and filmstrip viewer that debuted back in October of '64 and lasted until the early '80s. I personally never was lucky enough to own a Show 'N Tell phono viewer but my kindergarten class in my youth most certainly did – being a fiend for anything movie related I would become giddy on those days when coming back from recess to see the Show 'N Tell set up on one of the tables. Taking naps was a whole lot easier when watching the likes of Paul Bunyan, Robinson Crusoe, or even Robin Hood!
As the Show 'N Tell records were 45's the stories told were about 4 minutes long – so we little ones would generally get to know the stories real well before nodding off to sleep. The film strips were encased in a plastic sleeve – they actually were 16mm color film frames so they looked pretty amazing although being film as you saw in that short video, they can begin to fade due to age. The film strip would auto feed in sync with the record player as the story or the songs were played. In the beginning General Electric produced 35 Picturesound programs and split them into seven categories like History, Fairy Tales, Science and Space, Children's Favorite Classic, etc. The latter actually was split into to two categories itself – naturally sticking to stories in the public domain.
At least that his how it started out back in '64, because a year later the number of Picturesound programs had already reached over 130 – by that point General Electric began producing for a number of different franchises – such as Walt Disney or Captain Kangaroo but eventually even Sesame Street, Hello Kitty, and the Shirt Tales to name a few.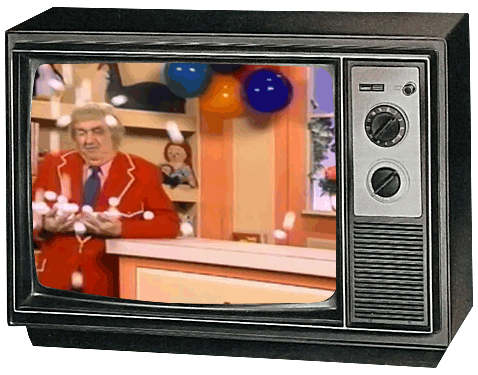 When General Electric released the Show 'N Tell phono viewer it would cost you $29.99 with the Picturesound programs a mere .99 cents or a package of five for $4.95. Although designed to look like a television set, as I understand it – the 11-inch screen only would project an image from the film strip. The record player however could be used for multiple sized records – that is until the '80s – when a version released by CBS Toys could only play 33 1/3 and 45's. It did though feature a similar option like that Fisher-Price Movie Viewer Theater – the film strips could be shown on either the screen or be cast from the side of the Show 'N Tell onto a wall.
I would love to hear if you owned or perhaps remember the Show 'N Tell phone viewer in the comments!