Friends, this morning while digging up some information on a future post I came across the 1976 Star Trek Phaser Battle game by Mego. This is sadly not a game that I ever knew of much less owned in my youth although I certainly wish I had – especially looking online as it appears to be fetching quite a high price these days. Small wonder I suppose as the Star Trek Phaser Battle Game placed the player on the bridge of the USS Enterprise (NCC-1701) to seek out and destroy enemy Klingon D7 battle crusiers as well as Romulan Bird-of-Prey class ships. Of course during the '70s Mego was sort of killing it with their Star Trek line – having begun manufacturing their iconic 8″ figures in 1974. That line of figures included characters that you would imagine like Mr. Spock, Kirk, Dr. McCoy, Mr. Scott, and a Klingon to cause havoc and provide someone for the crew to battle – I am happy to say that eventually Mego decided to produce Lt. Uhura and even a very impressive USS Enterprise playset!
Some of my earliest memories include visiting a department store in Oklahoma and seeing shelves with not just the Star Trek Mego figures but Planet of the Apes too. By my recollection I had to be around three or so and while I did not leave the store with a Mego treasure that day – I did get a pretty impressive jigsaw puzzle based on the Star Trek animated series.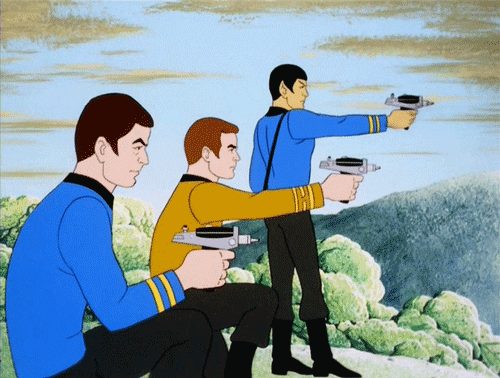 Doing a little research this morning I was able to find some interesting facts about the Star Trek Phaser Battle game, while I mentioned that trying to obtain one today was a little pricey – the truth is the cost of the electronic game was rather expensive back in the day too. I found some spots online that state in 1976 it was being sold for $69.99 which would cost a little over $300 today – throw in the fact that the Star Trek Phaser Battle game measured 13″ x 13″ by 16″ and ran on 6 D batteries it was pretty hefty too, in the commercial it appears to take up most of a table. Having said all of that however, in my opinion it all looks quite impressive – take a moment and check out all of the bells and whistles this game had to offer.
I'm going to include a link to the Handheld Museum so you can also scope out the front and back of the Star Trek Phaser Battle game box. It features some pretty fantastic artwork with a slightly startled Kirk as well as Chekov and Sulu on the back of the box – although what I enjoy most is the almost disdainful look that Mr. Spock is giving the child on the front of the box. In closing out this article – how would you like to see the Star Trek Phaser Battle game in action?