Friends, the other day on Facebook I noticed that the Go Hero page shared a link to this short film entitled Rebooted – which was written and directed by Michael Shanks (The Wizards of Aus, Lambs of God). The subject of Rebooted concerns a stop-motion skeleton named Phil, whose heyday peaked during the times when films like Jason and the Argonauts or One Million Years B.C. were popular thanks to effects of the legendary Ray Harryhausen.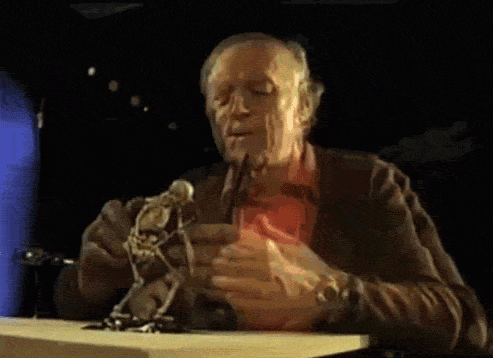 What is a stop-motion skeleton to do in this day and age however when filmmakers are using advanced CGI techniques to bring about the same effects – or worse remaking the very film that you helped to make so famous? The amazing stop-motion special effects pioneered by the likes of Willis O'Brien, Harryhausen, cel animation, a Creature from the Black Lagoon type of suit, and even an animatronic Velociraptor are the characters at the heart of Rebooted. All effects that were groundbreaking back in their day but have found jobs harder to come by in these modern times – approached in an equally humorous and quite moving manner.
If you would like to learn more about the making of Rebooted there is wonderful interview with Michael Shanks that can check out by following this link here.
The stop-motion effects used to bring Phil to life for Rebooted were handled by Samuel Lewis (Here Be Treasure, Lost & Found) – an artist who besides short films has done commercial work for Target, Slurpee, Gillette, and even Sesame Street. Lost & Found was written and co-directed by Bradley Slabe and Andrew Goldsmith and was released in 2018 – the short film ended up winning Best Short Animation from the Australian Academy of Cinema and Television Arts. That probably had more than a little to do with the fact that it is a short that will make you rush for a box of Kleenex – although I feel it actually has an upbeat ending when you take it all in.