Friends, just a few minutes ago I was contacted by a friend of mine from Facebook on the passing of Tim Skelly, who I talked about in length on the Star Castle episode of the Diary of An Arcade Employee Podcast for December. Tim was responsible for a handful of the classic titles from the Golden Age of the arcades – Star Hawk, Rip-Off, Warrior, and Armor Attack – these were in addition Vector graphics games. In fact Warrior is considered one of the first non-sport fighting arcade games – where two knights duel each other with swords.
Vector Graphics titles as I mentioned in the Star Castle episode just constantly draws a Player to them – I see it all the time at the arcade with Atari's Battlezone, Tempest, and Star Wars to name a few. In my opinion the Vector Graphics games just look better to me – they just somehow feel more special.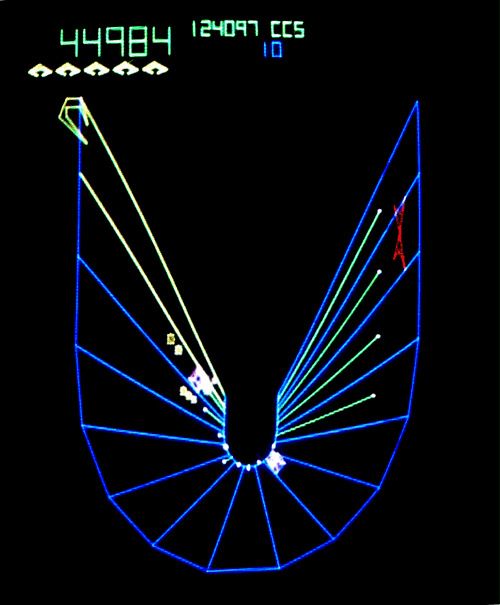 For what it is worth, I was first introduced to the works of Tim Skelly thanks to the November 1982 issue of Joystik Magazine – an interview that focused on his career and the history of his latest game – Reactor. Skelly got his start with Cinematronics and Vectorbeam – before going solo for the same reasons the co-founders of Activision did – lack of credit for their creations and fair pay or at least a percentage of the massive profits for the company that produced them. Which is why that with Reactor, Tim Skelly was able to have his name attached right on the title screen as per his contract with Gottlieb – a game I will admit I am terrible at but still enjoy playing on the MAME cabinet we have in the second wing of the arcade.
Tim Skelly would design two more games for Gottlieb known as Insector and Screw Loose – much like with Reactor these were raster graphic titles. I am sad to say that the last two titles for Gottlieb that Skelly had a hand in were never released into the wilds of the arcades back in the day – although thanks to Old Classic Retro Gaming you can see Screw Loose in action below.
As I understand it, Skelly would go on to work on the likes of Sonic the Hedgehog 2 in the capacity of art director and design advisor. In addition he had a hand in the software as well as hardware for the BattleTech Centers and even some of the OmniMechs used in the game.
I was never fortunate enough to meet Tim Skelly in person although what I've read in his interviews from the Golden Age of arcade games and other online sources – he most assuredly appeared to be a true individual and attempted to produce games that were different and stood out from the crowd. My heart goes out to the Family of Skelly and I so very much wish I could thank him personally for the legacy he crafted in video games.