Friends, the other day when I should have been working on a second article for the day – I was relaxing by perusing what some of our friends on Facebook were sharing. Both Rockford Jay as well as Anthony Rotolo – of the TV Terror podcast shared an image from the Weird Hollywood Facebook page – featuring a collection of actors known for their Western roles on film and television. Quite frankly when you see a photograph showing John Wayne standing next to the Lone Ranger (Clayton Moore) – with David Carradine behind them – you stop and take a closer look. This photograph appears to have been taken as part of the publicity for ABC's Silver Anniversary Celebration which aired back on the evening of January 31st of 1978. A four hour special event that featured over 300 celebrities gathered to celebrate the 25th year of ABC being in the TV broadcasting game and while I've not found the whole event… remember it IS four hours long… I located a few clips worth your time.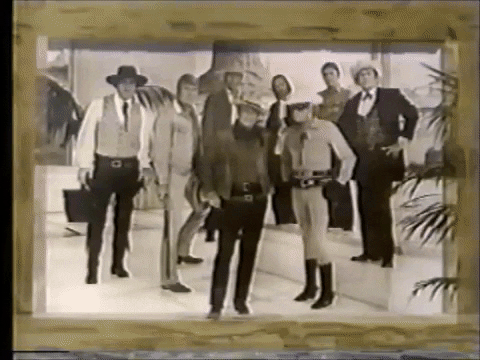 ABC's Silver Anniversary Celebration starts off with the late and great Penny Marshall as well as Cindy Williams from the popular Laverne & Shirley sitcom engaging in some comical hijinks before we get to see some of the guests attending the event. Such as Olivia Newton John, Vincent Price, Nick Nolte, Julie Andrews, John Ritter, Adam West, Billy Dee Williams, Richard and Karen Carpenter, and Henry Winkler to name just a few. If that wasn't incredible enough you then get Barry Manilow giving you a rundown of the 25 years of ABC programming… by way of song… plus a vintage Polaroid commercial featuring James Garner.
That is just the tip of the iceberg for ABC's Silver Anniversary Celebration as you are about to see – when the Captain & Tennille perform a number for the event. You will see pretty much every single celebrity within the room take the stage – in addition you will get moments where both Chuck Connors and John Wayne attempt to belt out a tune. As Toni Tennille calls the celebrities up on stage you will get to see the likes of Ernest Borgnine dancing next to Hal Linden of Barney Miller as well as Charo, Tom Bosley, Richard Crenna, Barbara Eden, and so many more. Did I forget to mention that this ABC song is set to Rocky's "Gonna Fly Now"?
Now let's circle back to that gathering of Western actors – the reason being is that ABC was known to feature more than a few popular television shows in the Western genre. Which is why Hugh O'Brian is featured for his work in The Life and Legend of Wyatt Earp – which ran on ABC from 1955 until 1961. Chuck Connors of course played Lucas McCain in The Rifleman which ran from 1958 until 1963 – Clint Walker takes the stage for Cheyenne which began in 1955 and lasted until 1963. Michael Ansara played none other than Cochise in the Broken Arrow TV series from 1956 until 1958 – with David Carradine taking his spot thanks to his role as Kwai Chang Caine in Kung Fu which aired from 1972 until 1975. Clayton Moore takes the stage thanks to the extremely popular The Lone Ranger TV show – which managed to run from September 15th of 1949 until 1957, although Moore was replaced by John Hart for two seasons in regards to a contract dispute. Last but not least, Jack Kelly is asked up on the stage for his part in Maverick which ran from 1957 until 1962 – in which he played Bart Maverick, one of the Brothers of Bret Maverick (James Garner). As to why John Wayne is present and acting as the presenter for this special segment of the event – ABC showed a few of his films back in the day – including the popular 1969 True Grit which earned Wayne his only Oscar.