Friends, since I did an 1UP episode of the Diary of An Arcade Employee podcast on 1982's Night Stalker for Mattel Electronics' Intellivision home console – it is probably safe to say I am a big fan of the game. In my personal opinion there is quite a lot to enjoy about Night Stalker, not only was it a truly great title for the Intellivision but is a solid representation of the maze shooter genre. In fact the only thing I can complain about off the top of my head is that designer Steve Montero wasn't able to somehow tie the game to the classic Kolchak: The Night Stalker television series!
If you have not had the pleasure of playing Night Stalker before, the premise is a pretty simple one – the Player is stuck in an underground maze – where they are continuously hunted down by vicious robots. In addition the Player has to contend with a pair of swarming bats that will stun them – leaving them easy prey for the robots. Then there is the rather oversized spider that is crawling through the underground maze – it too can paralyze the Player. At the very least there is a futuristic weapon to fend off these attackers… although only for six shots before the Player has to scramble through the maze seeking a new one.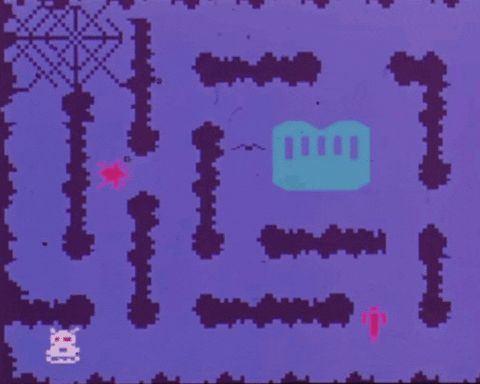 Which is why I perked up when Earl Green was kind enough to share a new video with me – Night Stalker for the Intellivision Amico… and it looks absolutely amazing if I am being 100% honest. This new version of that classic maze shooter game offers multiplayer – that includes both a Co-Op mode as you will see in the video itself and a Versus mode. I would like to point out that in multiplayer is appears that a Player can only pick up the weapon that matches their color – a nice touch and an element that should add some stress in later levels. While the graphics have been given an update although with an appropriately retro look – it appears there are new enemies to contend with too, such as the creeping slime that might be able to merge to create a tougher enemy!
In closing I want to point out that in the description for this preview of Night Stalker for the upcoming Intellivision Amico – they make a point of saying:

"This is only a small unfinished sampling of what the game will ultimately be like. Many more surprises on the way! This was recorded and played directly from the Intellivision Amico system."