The Incredible Hulk animated series debuted on NBC on the Saturday morning of September 18th of 1982 – although I was already well aware of the raging green Goliath courtesy of the 1978 live action The Incredible Hulk TV series on CBS. The latter featuring the late and great Bill Bixby as the tortured David Banner who is forced to continuously wander the United States in an attempt to rid himself of his monstrous alter-ego played by Lou Ferrigno. The Hulk had appeared in animated form before by the way – as part of the lineup of Marvel characters in 1966's The Marvel Super Heroes – in a series of 13 seven-minute long episodes. It appears however that the waters were first tested in the '80s for a return to animation when both Bruce Banner and the Hulk appeared in the November 7th, 1981 episode of Spider-Man and His Amazing Friends entitled Spidey Goes Hollywood. In this episode, it was the legendary Peter Cullen (The Transformers, Predator) who voiced both Bruce and the Hulk as well as the villainous Mysterio!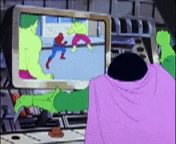 Just a little less than a year later and The Incredible Hulk was set to debut following the popular Spider-Man and His Amazing Friends show. I remember excitedly waiting for the show to begin and after that incredible opening I was totally ready to watch the series every Saturday morning. To me the opening for The Incredible Hulk raised the bar on the intro to the impressive Spider-Man and His Amazing Friends – one of those reasons as I would later learn was the art style was based on the work of Sal Buscema. Which considering Buscema illustrated The Incredible Hulk comic book series for Marvel for ten years, that was probably a very wise choice indeed.
Another thing that I loved about The Incredible Hulk opening is how it captures the raw power… and rage of the Hulk himself. Whether that be the mighty foot stomp that causes the ground to crack in the beginning of the intro or pushing against the closing steel walls, watching them buckle against his impressive strength. Plus there is that very memorable theme music in the opening provided by Johnny Douglas – whose work I guarantee you've heard before if you are a fan of '80s animated series. Just a few of the notable shows that Douglas worked on include Spider-Man as well as Spider-Man and His Amazing Friends, The Transformers, and Dungeons & Dragons!
When Disney+ went live I was pleasantly surprised to find that there was an amazing selection of the Spider-Man animated series to watch… but for some reason only the 1996 The Incredible Hulk show is available. I am not sure if there is a rights issue that needs to be cleared or what but I hope in the near future I can enjoy the 1982 animated series once again.