While this latest episode of the Pop Culture Retrorama podcast was indeed intended to be published on Christmas Eve, it just did not work out that way – having said that the message of the 1977 A Cosmic Christmas obviously is perfect for today. With the Holidays upon us it just felt right to tackle this particular television Holiday special that was produced by Nelvana Ltd. for the Canadian Broadcasting Company back in the day – although as I mention in the episode itself, I came to love it thanks to a local video store in the early '80s. It was packaged with three additional Holiday TV specials that Nelvana had produced… it was a VHS tape that I was so attached to that my Father at one point refused to ever rent it for me again. As I attempt on every podcast – I shine a light on the creation of not only A Cosmic Christmas but in this case the founding of Nelvana – the extremely prolific Canadian animation studio. In addition I share with you a little history on the original three founders of the studio and the rather impressive projects they had a hand in. A Cosmic Christmas is an animated treat for the Holidays with a delightful and most assuredly different style of animation!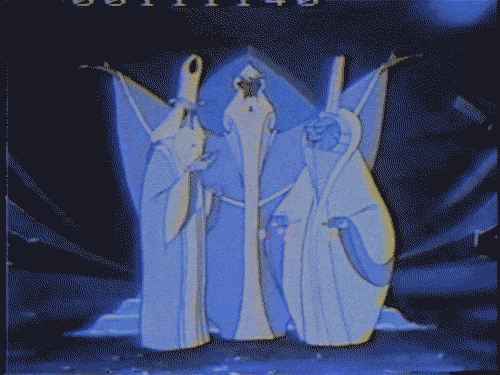 As a first fully animated half hour project for Nelvana – A Cosmic Christmas has a few rough spots but the amount of talent involved with the special shines through. Not the least of which includes having Sylvia Tyson providing the songs – she is probably best known for penning the incredibly catchy "You Were On My Mind" – a chart topping ditty covered by The We Five!
I point this out on the show itself but for some reason A Cosmic Christmas is not available on DVD or Blu-Ray at this time but at the very least you can pick up a copy on Amazon Streaming. And for what it's worth if you really want a deep dive into the history of Nelvana, you will want to put aside a little bit of time and read this 2001 article from Kidscreen – like with many groundbreaking ideas – it is kind of amazing just how much luck and self-confidence played into the company making it big.
The story for A Cosmic Christmas involves three alien visitors arriving on Earth in modern times – trying to find an answer to a question their people have been seeking for a very long time. The good news is thanks to Keep It Weird's YouTube Channel you can actually watch A Cosmic Christmas for yourself – although there are some slight edits to this version of the animated special.
If you have any suggestions for topics you would like for us to cover in a future episode – or possibly you have comments on the current show itself, email them to me at VicSagePopCulture@gmail.com You can also contact me on Facebook or even Twitter. Or perhaps check out the Pop Culture Retrorama Facebook page? There you can find posts a couple of times a day – featuring vintage commercials, comic book ads and toys.
The theme used at the beginning and ending of this episode was provided by Earl Green, if you enjoy his work, make sure to check out his exceptional spot on the internet – TheLogBook.com – let him know we sent you.
As always thank you for taking the time to listen to the show – from all of us at Pop Culture Retrorama we wish you a very Happy Holiday!
Subscribe to the Pop Culture Retrorama Podcast:
[iTunes] Subscribe to the Podcast directly in iTunes (MP3)
Directly Download the Pop Culture Retrorama Podcast: