It was June of 1982 when Director Ridley Scott delivered a masterpiece of a science-fiction film to theaters with Blade Runner – although there were many bumps along that road and it cannot be said it was his vision that audiences saw. At least not at the time of Blade Runner's release on June 25th of '82 – it wouldn't be until 2007 that Ridley Scott could be satisfied that his intended version of the film was available courtesy of the Blade Runner: The Final Cut release, which had been digitally remastered and allowed Scott complete artistic control of the movie. Here is the thing, as the movie explained by way of a title card – the almost nightmarish cityscape pictured in the film as well as the story that takes place was said to be this month. As there was no hard date that I was able to find in my research on the film – we can go ahead and say that the future of 1982's Blade Runner begins now!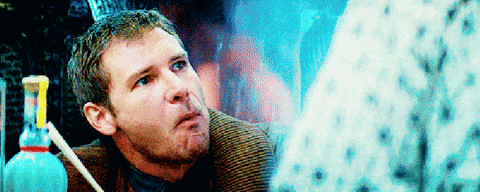 Now if I am being upfront about Blade Runner I am firmly in the minority as I actually prefer the original theatrical cut of the film. It might be one of the only times that I do not side with the Director's vision – this is something that one of my best friends is so opposed to… while I say this with my tongue planted firmly in my cheek – we've almost come to blows over it. I was all of ten years old when I first caught Blade Runner at the 112 Drive-In – an outdoor theater I am VERY happy to say is still in business – and I may have been one of the only patrons who enjoyed the movie. My Father was okay with Blade Runner – but I think that he expected it to be high adventure thanks to Harrison Ford's roles of Han Solo and Indiana Jones. I do not recall ever seeing so many people driving off during a film and if my memory serves me properly – the mass exodus began about forty or fifty minutes into Blade Runner.
As I understand it with 2007's The Final Cut there has been seven versions of Blade Runner released – each featuring minor or major changes. Three cuts of the film were shown in 1982 alone – which some have been made available to fans of the film. The first being the Workprint version, that was screened to test audiences in both Dallas and in Denver and ran 113 minutes. The San Diego version was only shown the once and apparently featured three scenes that were not seen except for in this cut of the film – this sneak peek at the movie clocked in at 115 minutes. The theatrical version included voice over work by Harrison Ford – this was a result of the test screenings, where audience members were left confused by the plot. I have read – thanks to Wikipedia – that in some drafts of the screenplay there was narration intended from Ford's character of Decker – but it was Director Ridley Scott and Ford who felt that they could just film scenes that would give reasonable explanations to what might be covered in said narration.
While I might feel differently than both Ford and Scott, four more versions of Blade Runner were produced. The International version had a running length of 117 minutes and featured three more scenes than the US release – I've read that this cut of the film is sometimes described as the unrated version. It was in 1986 that the US television cut of Blade Runner was seen on CBS – as you might realize some of the more violent aspects as well as nudity had to be removed from this version in addition that it included a different text opening crawl explaining what a Replicant was. In 1992 there was a Director's Cut of Blade Runner released by Warner Bros. – while Ridley Scott gave copious amount of notes on how this version was to be cut, film preservationist Michael Arik was in charge of the project. Of course The Final Cut is how Scott would have preferred the film to have been released to audiences and it most assuredly gives firm answers to some questions that are left vague – or up to the audience with the 1982 theatrical cut.
So if the future of 1982's Blade Runner begins now, we better do our best to keep our eyes peeled for six escaped Replicants…