As I made mention on the previous Pop Culture Retrorama podcast for 1980's The Blues Brothers – I felt that since this was the month of October, there needed to be a special episode. Which is why I chose to talk a bit about the 1980 monster-themed Saturday morning animated series known as the Drak Pack. A show in which the teenage descendants of the likes of Dracula, the Wolf Man, and Frankenstein's Monster have teamed up to protect the World their forefathers menaced. As I touch upon in the podcast the Drak Pack was part of CBS' line up for 1980 which actually included quite a few animated shows that I used to watch. Personally what stands out about the Drak Pack is the almost ridiculous amount of talent in regards to the actors who lent their voices for the characters. I want to add that since this is a Halloween Special – the format of this particular podcast is a little different than the standard show, for one thing it is not as long as the other Pop Culture Retrorama podcasts. Furthermore I felt there should be more examples of the voice work of that talent on the Drak Pack – perhaps you should think of this as a bonus episode.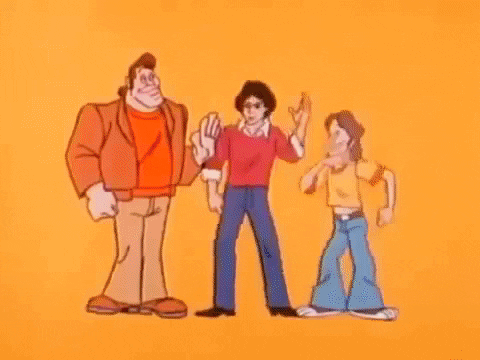 As I point out on this show, the Drak Pack was a very short lived Hanna-Barbera animated series. Only 16 episodes were produced but I still find it to be quite fun – I do however give my theory on why the show wasn't picked up for a second season. Unlike some of the other subjects I have tackled for the podcast there is not a whole lot of behind the scenes information to share with you. Although having said that there is one in particular I discovered about the Drak Pack that will probably surprise you as much as it did me.
As I always try to do on the Pop Culture Retroram shows, I share my personal connections to the subject matter – in this case how I first learned of the The Drak Pack and how it influenced me as a child. I hope you will enjoy this brief look at that 1980 animated series and perhaps it might cause you to seek it out for yourself – it is at least the perfect thing to check out on Halloween!
Speaking of things you should check out on Halloween – I mention a handful of podcasts that you will probably enjoy:
Anthony Rotolo's TV Terror Podcast – focusing on made for TV horror films and series.
Post Mortem with Mick Garris – the Director, Writer, and Producer of many horror films as well as some made for TV fare always has interesting guests on his show – from the likes of Tony Todd to Stephen King. Be warned there is sometimes adult language from Mick's guests so it might be considered NSFW.
The Retroist – one of the oldest and most well respected retro podcasts that you will find – his latest show is about 1987's Werewolf.
The Horrified Chicken Podcast – featuring both Sean and Nicole Johnson who tackle all manner of horror films from all eras – the likes of Silver Bullet to Rob Zombie's take on the Halloween franchise. It too has adult language and should be considered NSFW.
If you have any suggestions for topics you would like for us to cover in a future episode -or possibly you have comments on the current show itself, email them to me at VicSagePopCulture@gmail.com You can also contact me on Facebook or even Twitter. Or perhaps check out the Pop Culture Retrorama Facebook page? There you can find posts a couple of times a day – featuring vintage commercials, comic book ads and toys.
The theme used at the beginning and ending of this episode was provided by Earl Green, if you enjoy his work, make sure to check out his exceptional spot on the internet – TheLogBook.com – let him know we sent you.
Subscribe to the Pop Culture Retrorama Podcast:
[iTunes] Subscribe to the Podcast directly in iTunes (MP3)
Directly Download the Pop Culture Retrorama Podcast:
Episode Mirror #1 (MP3)
Episode Mirror #2 (OGG)