Friends, over on the Retroist last year I had the opportunity and good fortune to read and review an historical graphic novel by Nathan Hale entitled Lafayette!: A Revolutionary War Tale. Combining two things I greatly enjoy reading – history as well as comic books/graphic novels – I was more than impressed with what Hale delivered. Certainly the Nathan Hale's Hazardous Tales series is perfect for younger readers who might not pick up a book on history as quickly as a graphic novel – but while he provides many humorous moments with the three characters who act as guides through the books – the truth is he also doesn't pull any punches. History is obviously filled with incredible adventures and personalities – many times, events you would swear were made up are the parts that are true – but it is also equally filled with tragedy and dark deeds. Which is why the fabled battle for the Alamo is a perfect subject for Hale to tackle – which he did in 2016 – but ABRAMS books is releasing Alamo All-Stars: Bigger & Badder Edition today to book stores and online formats. This new edition features 16 new pages of mini-comics that provide historical photographs and paintings of some of the personalities who took part in the Texas Revolution – with added commentary. And as I've experienced so far in the two editions of Hale's graphic novels that I have reviewed – I have learned a great deal while at the same time being thoroughly entertained. Heck, I think this video from Nathan himself on 2016's Alamo All-Stars will clue you in to what I'm getting at here.
My first introduction to the events of the Battle of the Alamo was thanks to a re-release by Walt Disney in the late 70's – as I remember it was Davy Crockett, King of the Wild Frontier. I was very young and while I certainly remember enjoying the film – which was actually edited versions of three episodes of the incredibly popular 1955 television series – I have an image of Crockett (played by Fess Parker) burned in my brain. Davy surrounded by the bodies of his fallen allies – standing on the battlements of the Alamo swinging his empty rifle as the armies of General Santa Anna charge him and swarm over the fortifications.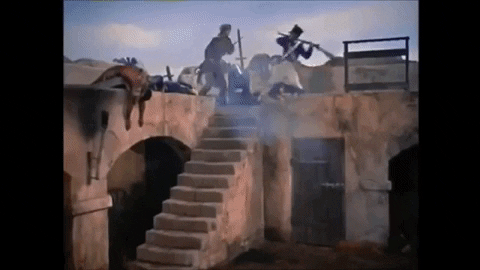 Entertaining and even moving… certainly – historically accurate… not exactly. Of course it was a televisions series turned movie, it was meant to be entertainment above all as was John Wayne's directed version entitled The Alamo – although I will argue that John Lee Hancock's 2004 film was far more accurate and a better film… yet I appear to be in the minority on that matter. Which brings me to what I enjoyed so very much about Hale's Alamo All-Stars: Bigger & Badder Edition – here we are given a historical accuracy sometimes missing from other media – including more of an explanation of what led to the Texas Revolution and brought about fate of the defenders of the Alamo.
Nathan Hale shines the spotlight on the historical men and women that have usually be skipped over as well as providing a deeper look at some of the more familiar personalities. Little takeaways from reading the graphic novel that come to mind – like it appears as if Jim Bowie was kind of the equivalent of Marvel Comics' Wolverine – I mean that as both a compliment and insult – larger than life to be sure but he certainly seemed to be a man who was prone to violence. However I want to point out that Hale is thorough in his research – showing that it was the likes of Bowie who attempted to parley with General Santa Anna (still tweaking his nose while doing so) and it was William Barrett Travis who fired upon the gathered Mexican forces with their 18-pounder cannon thereby cutting off any opportunity at a peaceful resolution.
While I am no expert when it comes to history… well… anything actually – I will admit I knew nothing about the fate of Goliad until reading the Alamo All-Stars: Bigger & Badder Edition – it's a pretty sobering thing to say the very least. Since this graphic novel is meant for a younger reader I don't want anyone to think there is rampant amounts of gore or the like – Hale handles the battles and deaths artistically and tastefully. Nathan Hale's goal of course to entertain as well as inform – and I quick to add that he succeeds marvelously on both of those fronts.
If you are a fan of history in addition to well written and illustrated graphic novels to boot – do yourself a favor and visit a better book dealer today and pick up the Alamo All-Stars: Bigger & Badder Edition or order your copy through Amazon. I look forward to getting the opportunity to review and share future Nathan Hale's Hazardous Tales in the future!