Ridley Scott's 1979 sci-fi/horror masterpiece Alien turned 40 years old back on May 25th – that is when it received it's original limited release to theaters in '79. It wasn't until June 22nd of that year that Alien was given a wider release – surprisingly this is NOT a film I saw at the 62 Drive-In I talk about all the time. I was able to catch Alien on the Movie Channel in my youth at an Aunt's house one morning during Summer break – I would be willing to bet it was in 1980. This is the same Aunt who was a horror buff that I talked about on Anthony Rotolo's excellent TV Terror Podcast – for his second Book Club special. I would have been eight years old at the time of seeing the film which might be why she wanted my Father's permission first. I was immediately sucked into the universe that Ridley Scott helped create courtesy of the screenplay of the late and great Dan O'Bannon – a real blue collar team of characters that are thrust into an intergalactic nightmare by what we have come to call the Xenomorph. The other evening I was given an opportunity to catch Fathom Events Alien 40th Anniversary event – thanks to TCM as well as 20th Century Fox. If it has been a while since you've seen the film for yourself I can tell you that it still holds up 40 years later – exceptional performances from the cast and obviously practical effects make sure that it delivers the goods to new and old fans alike.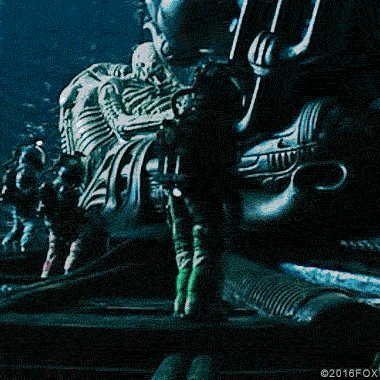 Getting to see the Alien 40th Anniversary event was courtesy of Shea, one of my best friends and owner/manager of the arcade I "work" at. Actually I had scheduled a personal day the previous Sunday to see it with some friends – but work managed to throw a monkey wrench into those plans… and staying up nearly 24 hours is harder to do at my age. Alien I would have to say easily ranks in my top ten films of all time – along with another Ridley Scott helmed sci-fi picture that I bet you can guess. I am happy to say that this Fathom Events screening was not just packed – Shea and I couldn't actually sit in the same row – but the theater opened up another auditorium for a little later showing to accommodate the demand. Not too shabby for a 40 year old film, right?
I definitely think that the two younger patrons – probably late teens – that were sitting to each side of me, had never seen the film before. Judging by how much they jumped when the Xenomorph would attack – it was also great to hear the audience really chuckling at the banter between Yaphet Kotto and the dearly missed character actor – Harry Dean Stanton. As I touched upon at the beginning of this article – the blue collar characters might be on the equivalent of a space oil rig – but the way the actors interact with each, their bickering and camaraderie really elevates the film. No one in the film delivers a bad performance – they are all memorable and when their vessel becomes an intergalactic 'haunted house' you feel incredibly bad as the Xenomorph starts racking up a body count.
For some reason on this viewing I noticed and was incredibly impressed by the scene when they land upon LV-426 – when the ship itself is damaged due the rocky surroundings – we see Ripley, Dallas, Ash, and Kane leap into action immediately suppressing the small fires that have broken out. Wordlessly showing the viewer that this is a professional crew that have worked together before – well – not Ash of course as the science officer was a last minute replacement. Don't take my word for it though – check out the video below for yourself, jump to 1:50 mark.
Sigourney Weaver obviously became a major star after appearing in Alien but the cast truly is exceptional. You have the late and great John Hurt, there is Veronica Cartwright, Ian Holm, and Tom Skerritt besides Harry and Yaphet. Which is why it kind of shocked me when I found out that NONE of the cast was nominated for an Academy Award – although I should point out that it was nominated in two categories – Best Art Direction and Set Direction as well as Best Effects, Visual Effects. It managed to win Oscars in the latter category for H.R. Giger, Carlo Rambaldi, Brian Johnson, Nick Allder, and Dennis Ayling.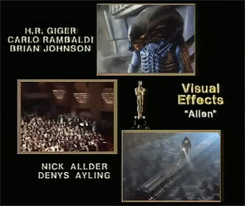 For what it might be worth, catching Fathom Events Alien 40th Anniversary screening was the second time I have been able to catch it on the big screen. I first saw it in a theater around 22 years ago – thanks to a slew of classic films being presented as midnight movies at the Razorback Theater. That is the original theater in my neck of the woods where I not only saw many, many of my favorite films but would end up working for about nine years. Anyway, we showed the likes of Blade Runner, The Lost Boys, The Godfather, Purple Rain, La Femme Nikita, Raiders of the Lost Ark, and of course Alien. Although I will admit it didn't look nearly as amazing as what I saw tonight – digitally restored and sounding incredible – especially that score by Jerry Goldsmith.
While the truth of the matter is that I always feel incredibly guilty when I'm seeing a film when I should be working at the arcade… I will definitely admit that I was more than grateful to get the chance to see Alien in the theater once again – the way it was meant to be seen!