Friends, thank you for joining us for a new episode of the Saturday Frights Podcast – for this matinee offering I am tackling Gray Matter, the first segment of the recently released Creepshow series. Shudder's new show as I explain in the podcast itself is a continuation of the film series that was started by the late and great George A. Romero as well as Stephen King – a cinematic ode to the E.C. horror comics they grew up reading. Creepshow and Gray Matter certainly has some horror pedigree – what with Greg Nicotero (Day of the Dead) helping to head up the show in addition to directing Gray Matter and even co-writing an episode. Plus in Gray Matter in particular you have the likes of Tobin Bell (Saw) and Adrienne Barbeau (The Fog) as two of the leads with the incredibly talented Giancarlo Esposito of Breaking Bad and Better Call Saul fame. So what I am trying to get at is Gray Matter doesn't suffer in the acting department. Of course this segment also benefits from the practical effects employed to bring some horrible monstrosities to the small screen… slimy, hungry and angry monsters… and worse that lurk in the pages of Creepshow.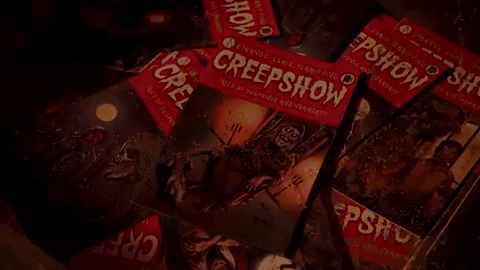 A heads up on this matinee podcast episode, I act as your sole host for the show as the Projectionist has gone missing. I go into greater detail in the episode itself but my shadowy co-host headed back to the Haunted Drive-In a couple of weeks back… and we have had no communication from him since. I should also warn you that when I dive into the synopsis for Gray Matter it is most certainly a SPOILER filled discussion of the segment – although I let you know ahead of time before I start it. In addition I share a part of an interview with Greg Nicotero from the pages of Entertainment Weekly – who talks a little bit about why <em>Creepshow</em> was one of the hardest projects he has ever tackled.
In this show I briefly discuss my first encounter with 1973's Gray Matter and while this is a matinee episode… as usual it ends up running as long as a standard show. I also touch upon the elements of Gray Matter that I liked and some thoughts at the end of… what didn't 100% work for me. I definitely think that Creepshow is off to a good start and shows a lot of promise of a variety of different horror stories – a perfect treat from Shudder and AMC for this October!
If you have any suggestions for topics you would like for us to cover in a future episode -or possibly you have comments on the current show itself, email them to me at VicSagePopCulture@gmail.com You can also contact me on Twitter and on Facebook. In addition I certainly hope you will take the time to visit the Saturday Frights Facebook Page. There you can find posts from Rockford Jay, Preston Griffith and myself on a daily basis.
As always I want to thank you for taking the time out of your busy schedule to listen to the show. So pop a can of Harrow's Supreme Lager and prepare for something creepy and nasty as we discuss Gray Matter!
Subscribe to the Saturday Frights Podcast:
[iTunes] Subscribe to the Saturday Frights Podcast (MP3)
Directly download the Saturday Frights Podcast:
Episode Mirror #1 (MP3)
Episode Mirror #2 (OGG)