I have a great amount of affection for J.R.R. Tolkien's Lord of the Rings but in truth I love 1937's The Hobbit even more than that epic trilogy. The reason for this most certainly has to do with catching the 1977 animated adaptation of The Hobbit by Rankin and Bass. So I thought for this Hobbit Day – that celebration that was started in 1978 by the American Tolkien Society – as part of Tolkien Week, I would discuss that animated made for TV film. It not only helped to cement my love of the fantasy genre and acted as a gateway for the likes of Dungeons and Dragon, Robert E. Howard, Fritz Leiber, and even George R.R. Martin's little known fantasy book series. But more importantly it also helped to forge an everlasting love of all things related to that fictional race… The Dwarves! Technically Hobbit Day is meant to be the celebration of the birthday of both Bilbo and Frodo Baggins but the Dwarves had more than a hand in both of those brave Hobbit's adventures, right?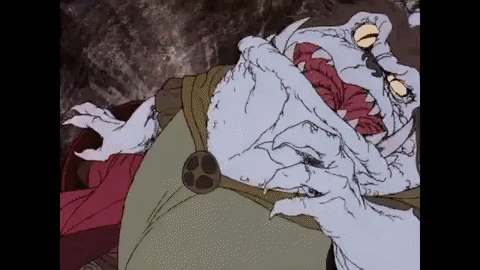 I have shared this information before on the former Retroist site but I did not get to see The Hobbit when it originally aired on November 27th of 1977 – although I do know I caught it the Summer of '78. While my imagination at that point had been captured by that adventure in a Galaxy far, far away after seeing Star Wars – things were about to change. I remember playing out in the yard with a neighbor when my Father called me to come in as there was an animated special on television – I maybe missed just a couple of seconds of the beginning… but that deep and commanding voice of John Huston as Gandalf the Grey immediately had me spellbound. I sat enthralled for the entire presentation and this first taste of Tolkien's Middle-Earth would not be my last.
I was six years old when I first saw The Hobbit and I can assure you that I did my best – long before VCR's could record it for future viewing – to make sure I was seated in front of the TV when ABC would air it again. Now I do understand some Tolkien purists have issues with Romeo Muller's adaptation of the source material but I stand my ground and say that it is quite good and captures the overall spirit of the story. Plus, I should point out that when it was released the teleplay was considered good enough that Muller received the Peabody Award in 1978 for his work – he also had the honor of losing the Hugo Award for Best Dramatic Presentation to Star Wars. I'm going to add that another film from 1977 that had an amazing effect on my life was nominated for that award too – which was Ralph Bakshi's animated theatrical masterpiece Wizards. A film that quite obviously was inspired by the works of J.R.R. Tolkien… with a modern twist.
Another element that made me a fan of 1977's The Hobbit was thanks to the soundtrack – with a score written by Maury Laws (The Flight of Dragons) with songs written by Jules Bass and performed by Glenn Yarbrough. At least some of those songs were performed by the late and great folk singer – because many of the cast also lent their voices to the songs in the film, like Thurls Ravencroft (The Haunted Mansion), Don Messick (The Smurfs), Hans Conried (Walt Disney's Peter Pan), and John Stephenson (The Transformers). I spent many, many years attempting to get my hands on the soundtrack without luck until earlier this year, thanks to Phillip Cary – a fellow Retroist Author and friend gifted me the LP collector's edition!
So how about kicking off your shoes and letting your feet breathe today in celebration of Hobbit Day – or you could of course watch 1977's The Hobbit or Ralph Bakshi or Peter Jackson's adaptations of The Lord of the Rings. Although if you don't mind my personal suggestion – treat yourself to the 1968 radio drama version of The Hobbit courtesy of the BBC Radio Production: