The celebrity spokesperson as product endorser is the tried-and-true form of persuasion when trying to sell something.
Celebrity endorsements go way, way back.  In the effort to show someone using a product the average consumer uses, they appear to be more like us, and thus, the product is appealing.
Case in point, my mom bought this peanut butter because Derek Jeter endorsed it.
Image Source: Allison's Written Words
And yes, it was every bit as delicious as you'd expect.
As I'm writing this, I just finished eating my sugar cookies out of a plastic Ziploc bag.  This morning, I was putting the cookies in the bag, when I was inspired to write this article.  I remember a series of commercials from the mid-1980s featuring Dom DeLuise, and his use of Ziploc bags for all of his food storage needs.
Who hasn't used Ziploc for their storage needs, food or otherwise?
In my house, Ziploc bags mean storing cookies and snacks for safe travel to work, and for storing liquid toiletries when I travel.  I love their durability and versatility, especially since the zipper-lock became a thing.
There's no art form to closing a bag with a zipper, aside from squeezing the air out.  But if I do wind up with bags that lack zippers, I just place them on my kitchen counter, squeeze out the air, and press the seal down against the kitchen counter.
In Dom's house, Ziploc bags prove to be the toughest against freezer burn and protection of giant meatballs, fresh vegetables, chicken legs, and Dom standing on his head while closing bags.  What it hasn't protected anything from, however, was midnight snacking.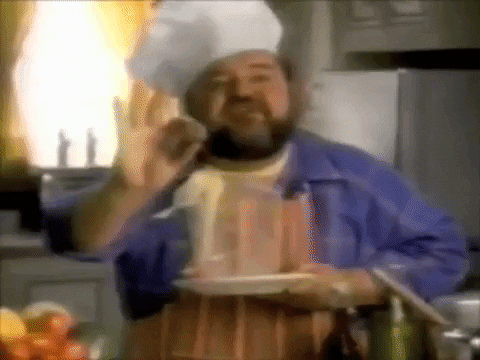 DeLuise did the commercials beginning in 1984, and by this point, he was an accomplished actor, having made appearances in films by the likes of Mel Brooks and Don Bluth, and starring alongside Burt Reynolds in several films.
A voiceover actor, television star, and film star doing commercials was nothing new, but DeLuise was also a chef with a series of cookbooks under his belt, beginning in 1988 (that first one has the nice, lengthy title of Eat This … It Will Make You Feel Better: Mamma's Italian Home Cooking and Other Favorites of Family and Friends), and even a series of children's books.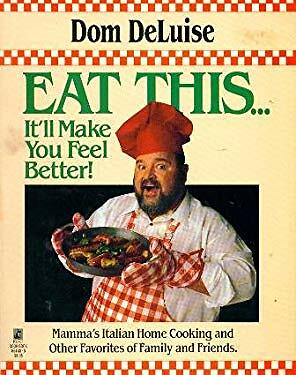 Image Source: eBay
Food has a way of doing this, you know.
And Ziploc had a way of doing this…
Image Source: Reddit
I met his youngest son, David, in 2016 at the last Stargate Convention I went to (Dom appeared on that show in the season three episode "Urgo"), and he told alot of wonderful stories about his dad.  When I got home from the convention, I saw one of these commercials on YouTube, and surprisingly, didn't think to write about it three years ago.
Image Source: Author's Personal Collection (Allison L. Preston)
These photos hang on the wall in my upstairs hallway, right next to the photos of my husband with the different female celebrities he's met.  And yes, he is just as much of a character as his dad.
Anyway, back on topic…
DeLuise not only did commercials for Ziploc over the course of several years, he also was featured in print advertisements for the different types of bags Ziploc made, a true extension of the humor in the commercials.
Image Source: Pinterest
For the love of everything, why do you need 87 bags?!
Image Source: PicClick
The commercials were, by far, a real treat.  If you like the man's wit, the commercials really showed it.  The cute part was how many times he giggled in the middle of his line delivery.  Food is a serious subject for most chefs, but this chef would never have taken it seriously!
I compiled a nice smorgasbord of the commercials, all culled from the archives of YouTube.  Just a warning though, they may make you hungry!
Upload via Various YouTube users
Ziploc bags continue to be one of many brands vying for your plastic reusable storage bag-buying dollar (as they have been since 1968).  DeLuise, however, passed away in 2009 of cancer and kidney failure.  As his son told us at the convention, his father was witty and sharp until the very end, and we have a nice body of work to remember the man by.
For those of us who love nostalgia, we also have these commercials.
Seriously…87?!