Last year while visiting a local record shop in my neck of the woods, Block Street Records, I happened upon an interesting collection of 45's on display. Now I will be quick to point out that the shop always has interesting things that will catch your eye – records and LaserDiscs as well as cassette tapes. That is understandable but if you stop being dazzled by all of the amazing vinyl they have in stock you just might realize that there are an awful lot of Planet of the Apes statues and artwork too. Anyway, during this trip to the record store I happened to notice – high up on the walls that they had a collection of Doctor Who 45's. I was interested in one record in particular that featured Jon Pertwee and "Who Is The Doctor" on Side A with The Sea Devils on Side B. While I do consider myself more than a casual fan of the Doctor Who series – I had no idea at all what this 45 contained and I certainly wasn't going to ask the folks at Block Street Records to pull it down to let me listen to it. When I made it home I did some research and found that the vinyl treasure that the record shop offered was a spoken word song performed by the Third Doctor himself!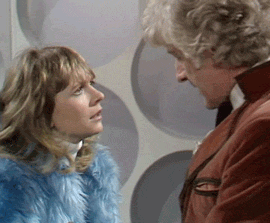 Before I dive a little more into "Who Is The Doctor" let me say that like probably many of you that frequent the Pop Culture Retrorama site – it was Tom Baker who was the first Doctor I ever watched. Late on Saturday night I would occasionally stay up at my Grandparents and watch Doctor Who on the local PBS affiliate. It wouldn't be until I was much older that I really started diving into the TV series. This was around the time of the 1996 TV movie that debuted on Fox – starring Paul McGann as the Eighth Doctor with his archnemesis, The Master, being played Eric Roberts.
Thanks to a local Hasting's store I was able to rent quite a few Doctor Who episodes and while Baker was my first Doctor – it quickly became apparent that my favorite was his predecessor. There was something so wonderful about Jon Pertwee's performance as the Third Doctor – equally flamboyant and dashing in his attire, Grandfatherly at times but also quick to anger… and with all that he also knew Venusian Akido!
Thanks to one of my best friends I now own that 45 featuring Pertwee's "Who Is The Doctor" on one side with Malcolm Clarke's score for The Sea Devils on the second side. It turns out this 45 is the 1983 re-issue – the original being pressed back in December of 1972. There were two more re-issues produced since then, one in 1985 with The Sea Devils being replaced by "Doctor?" by Blood Donor – then a remastered version in 2014, a digital offering I believe. "Who Is The Doctor" features a delightful performance by Pertwee, the lyrics suitable for the musings of the Third Doctor – set to a reworking of Ron Grainer's legendary theme for the TV series by Rupert Hine. It turns out that Hine actually wrote the lyrics to "Who Is The Doctor" as well – all designed to fit into the Doctor Who theme song – and while I am obviously biased I think you will find this is the best thing you are going to hear all day.