Friends, if you followed the Retroist for any amount of time you might have noticed that there were some subjects I would revisit time and time again. After all you are supposed to write about what you know – so that is why I stuck to covering video games, movies, comics, and cartoons. At least when I first started writing for the site – in nearly ten years I ended up writing about anything and everything I was excited about or loved. After a bit I decided it made more sense to start kind of branding things – in the case of Toon In – it not just gave me an opportunity to share my love of classic animation but it also just happens to be a podcast that I will be co-host on… in the near future. I felt it would be nice to bring that over from the Retroist and continue it here on Pop Culture Retrorama – so our first Toon In offering will be a 1943's Super Mouse animated short entitled He Dood It Again.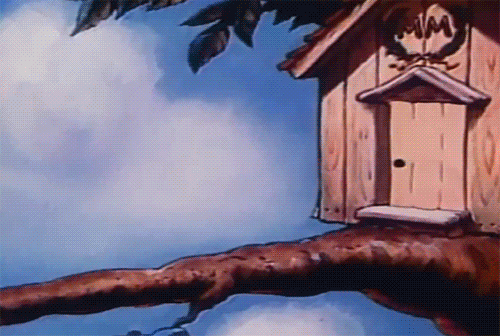 Produced by Terrytoons studio, if you are thinking that Super Mouse bears an uncanny resemblance to Mighty Mouse – that would be because until the 1944 animated short entitled The Wreck of the Hesperus, the character was known as Super Mouse. An obvious nod by Paul Terry, founder of Terrytoons, to Jerry Siegel and Joe Shuster's Superman character for DC Comics – you'll notice the color scheme of Super Mouse's outfit is identical to the last Son of Krypton.
You might think that Terrytoons altered the look of Super Mouse at the behest of DC Comics or something – apparently though Paul Terry changed it because of a character with the same name that was going to be published by Standard Comics. Super Mouse's first appearance was in the October 16th, 1942 theatrical short, The Mouse of Tomorrow. Although interestingly enough when this particular cartoon was re-released to theaters on November 23rd of '44 – the character's name was altered to fit his new moniker of Mighty Mouse.
In the Super Mouse short, He Dood It Again, the super powered mouse must come to the aid of a group of mice who have chosen to hold a party after Sol's Diner has closed for the night. The problem is a wandering cat sees his chance at an easy meal and slips inside the eatery for an after hours buffet. If I am being totally honest, the mice actually hold their own in a comical fashion that I absolutely adore in early animated shorts – like spilling a drawer of silverware into a meat grinder, transforming it into a makeshift utensil firing machine gun.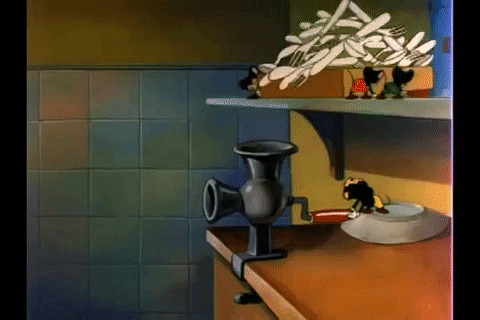 It is when the cat brings in an feline army that Super Mouse must be called to lend aid and, "A powerful leap launches this mighty mouse on his mission of mercy." That mission is to not just save his fellow mice but to send the cats running for the hills – showing off his mighty prowess while doing so. In He Dood It Again, which was directed by Eddie Donnelly and written by John Foster, the voice of the narrator is provided by Tom Morrison. Morrison wrote an amazing amount of the scripts for Terrytoons and others – the IMDB shows that as a writer he had 329 writing credits to his name with 82 credits for his voice work on animated shorts.
The title if you happen to be a fan of Old Time Radio shows is a reference to the popular The Red Skelton Show, a character he created known as Junior or The Mean Widdle Kid. So grab your favorite beverage and snack and Toon In with us for Super Mouse in He Dood It Again!