Friends, the latest 1UP episode of the Diary of an Arcade Employee podcast is done and ready for your listening pleasure – this show is all about Nintendo's Ice Climber which was originally released in 1985. Although as I have pointed out on the podcast it actually didn't get it's start in the arcades but as home console offerings for both the Nintendo Entertainment System as well as the Famicom. Fair warning though, even if this is a 1UP episode which is meant to be a shorter digest-sized offering – this show clocked in at a little over 25 minutes.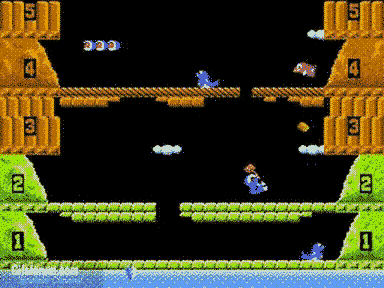 As always with the Diary podcasts, I have done my best to give you some interesting facts about those creators who helped to create Ice Climbers. I also share my memories of how I first encountered the game and go into a little detail on it's port to the arcades and the differences between the original release and arcade variety. I even managed to bring along a few vintage audio treats for your listening pleasure.
So grab your blue and pink parkas and bundle up as I discuss Ice Climbers on this 1UP episode of the Diary of an Arcade Employee Podcast. Thanks for taking the time to listen and I hope you will enjoy the show!
If you possibly have suggestions for future episodes or want to chat about the current show – you can reach me at VicSagePopCulture@gmail.com. You can find me on Facebook or Twitter and make sure to check out the Arkadia Retrocade Facebook page. Or for daily updates you can hop on over to the Diary of an Arcade Employee Facebook page – heck -you can see videos and more fun a couple of times a week by checking out my Instagram page!
Download the Diary of An Arcade Employee Podcast: