For this seventh episode of the Pop Culture Retrorama Podcast we are taking a look at an incredibly popular animated series – The New Scooby-Doo Movies! That long running show from Hanna-Barbera that was originally broadcast on CBS on September 9th of 1972 and managed to be seen on Saturday Mornings until 1976. As I point out in the podcast itself, the big difference between the first Scooby-Doo series, which was Scooby-Doo, Where Are You? and The New Scooby-Doo Movies is the fact that there were guest stars featured on the show – such as The Harlem Globetrotters, The Three Stooges, Speed Buggy, and many more!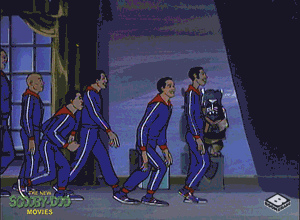 Since I am tackling such an iconic series with the discussion of The New Scooby-Doo Movies I have made sure to devote a little of the show to the creation of Scooby-Doo franchise itself. I can assure you there is some rather interesting history involved with the likes of Hanna-Barbera bringing the show to television. I talk about the animated series creators – Joe Ruby and Ken Spears as well as another important factor in the show's success, character designer Iwao Takamoto. An animator, character designer and film Director that not only had great success at the Hanna-Barbera studios but actually got his start in the industry at Walt Disney! In fact thanks to this YouTube video from Tristincole you can watch Takamoto whip up a drawing of none other than Fred Flintstone!
With this show I give a brief rundown of all of the celebrities featured in the 24 episodes of The New Scooby-Doo Movies – including some celebrities that you might not have known had a hand in Saturday Morning Cartoons. Not to give it all away but did you know that Scooby-Doo and other animated shows of the time have connections to Taxi Driver, The Shining, One Day At A Time, and even Caddyshack?
Subscribe to the Pop Culture Retrorama Podcast:
[iTunes] Subscribe to the Podcast directly in iTunes (MP3)
Directly Download the Pop Culture Retrorama Podcast: