For this Matinee Episode of the Saturday Frights Podcast we tackle Nightmare Cinema – the brand new horror anthology from Mick Garris, Joe Dante, David Slade, Ryuhei Kitamura, and Alejandro Brugues. This is a film that many of us that work down in the Vault have been anxiously awaiting to be released since it was announced back in 2017 – not just because it is a new horror movie anthology but for all of the talent involved behind and in front of the camera. And even though my co-host, the Projectionist, was upset to hear the news – the truth is this show is a non-spoiler episode. Although as we touch on the segments in Nightmare Cinema, those elements that made each story stand out – we give you a brief overview of the segment itself. Enough I feel that by the end of the episode you will most certainly realize what this movie will offer to you – which in a nutshell is five stories from masters of horror that hail from around the World!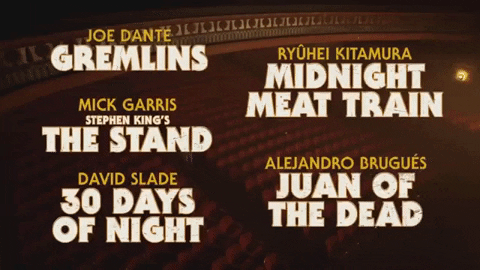 I have to say that horror anthologies are some of my favorite subgenres of horror films. There have most certainly been some great ones over the years – Twice-Told Tales, Black Sabbath, Dead of Night, Asylum, Tales from the Crypt, The Monster Club, Creepshow, and Trick 'r Treat to name a few. Having said all of that though, compared to other horror film genres – the anthology is not seen as regularly, which is quite the shame. Thankfully with Nightmare Cinema we can add another worthy horror anthology to the list.
With the group of Directors listed in that GIF up above it is easy to see why I was so blown away by Nightmare Cinema. Two of those Directors – Joe Dante and Mick Garris, have had a hand in crafting some of my favorite horror film and TV shows of all time. In this show we provide a little background info into how Mick Garris was able to bring together the four other Directors to the film as well as the 12 year journey it took to bring Nightmare Cinema's to the big screen. Although you can learn even more from Garris himself if you follow THIS link to his special discussion of the film on Trailers from Hell's YouTube page – bear in mind there is a brief moment of salty language.
If you have any suggestions for topics you would like for us to cover in a future episode -or possibly you have comments on the current show itself, email them to me at VicSagePopCulture@gmail.com You can also contact me on Twitter and on Facebook. In addition I certainly hope you will take the time to visit the Saturday Frights Facebook Page. There you can find posts from Rockford Jay, Preston Griffith and myself on a daily basis.
We do appreciate you taking the time to join the Projectionist and myself as we discuss Nightmare Cinema – here on the Saturday Frights podcast!
Subscribe to the Saturday Frights Podcast:
[iTunes] Subscribe to the Saturday Frights Podcast (MP3)
Directly download the Saturday Frights Podcast: