Friends, it is very nearly Halloween, so it only makes sense that for this episode of the Diary of An Arcade Employee podcast that I talk about 1988's Splatterhouse – the arcade title by Namco. In fact while I share my memories of the game for the Turbografx-16 home console – I also tackle the confusion on if Splatterhouse was released in North American arcades at all. As usual for a Diary episode, I have done my level best to try and shine the spotlight on those responsible for helping to create Splatterhouse and I have even managed to find a few vintage audio treats for your listening pleasure.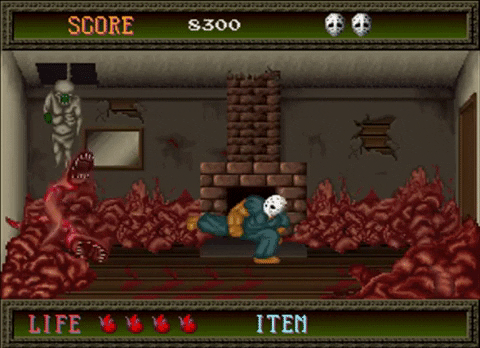 It is hard to believe that we have already reached episode 24 of the show – I suppose you could consider this the second Halloween Special for the podcast too. In addition to the usual information I share about the game itself – I also talk a bit about why I am taking a month long hiatus from all of the podcasts I have a hand in. I am sure you will understand the need for a break but it felt like I should give a little explanation for why I am feeling stretched a little thin at the moment.
By the way, our ending theme which is entitled "River Raid", was graciously provided by the talented Tony Longworth. If you like what you hear you can listen to more of his work over on his SoundCloud page.
So without further ado, pull on your terror mask and prepare to brave the horrors of the West Mansion with Splatterhouse!
If you have a moment, why not help us reach new listeners? Not only subscribe but leave us a rating and review for the Diary of An Arcade Employee podcast – whether that be on iTunes, Google Podcasts, Stitcher or Spotify?
If you possibly have suggestions for future episodes or want to chat about the current show – you can reach me at VicSagePopCulture@gmail.com. You can find me on Facebook or Twitter and make sure to check out the Arkadia Retrocade Facebook page. Or for daily updates you can hop on over to the Diary of an Arcade Employee Facebook page – heck -you can see videos and more fun a couple of times a week by checking out my Instagram page!
Subscribe to the Diary of An Arcade Employee Podcast:
[iTunes] Subscribe to the Diary of An Arcade Employee Podcast.
Download the Diary of An Arcade Employee Podcast:
Episode Mirror #1 (MP3)
Episode Mirror #2 (OGG)